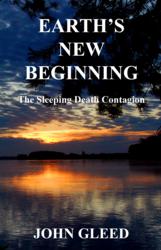 Morrisburg, ON (PRWEB) December 16, 2011
Gleed's novel imagines a potential "Earth's New Beginning" taking place in the near future.
In his story, a highly infectious contagion kills most of the Earth's population in less than three months. The Sleeping Death Contagion virus causes the death of nearly every infected victim as they sleep. The nature of the virus is such that it could have resulted in the extinction of the human race. Only a rare and random genetic immunity to the fatal effects of the virus prevents this. However, it leaves less than one in a hundred thousand survivors (0.001 %) – less than three thousand in North America, about seventy thousand worldwide.
As a beneficial side effect, the novel predicts a quick solution to the complex problems of human pollution and greenhouse gas generation. All these issues are solved in less than three months. The rivers, streams and oceans become clear and clean and the fish populations begin a rapid recovery. The jungles, forests and grasslands, almost completely rid of their human exploiters, begin to regenerate themselves naturally. The populations of wild birds and animals that have been threatened by human expansion start to recover rapidly. The concerns about greenhouse gas levels produced by humans disappear almost overnight. In 2013, the Kyoto Accord targets are met and exceeded beyond anyone's wildest dreams. However, there are few people left to know or care.
The "Earth's New Beginning" novel follows the experiences of four unrelated survivors in Canada, England, Kenya and the United States through the rapid spreading of the infection around the world. It then follows their individual survival stories for the first nine months after the disease strikes.
The Author
John Gleed is a retired high-tech executive living in Morrisburg, Ontario, Canada on the Canadian shores of the St. Lawrence River, bordering New York State. He has always been interested in apocalyptic fiction about what might happen if a worldwide catastrophic disaster occurred. He was born and grew up in rural North Yorkshire, England. He emigrated to Canada in 1969. He spent most of his high tech career in Ottawa, Canada and retired in 2002.
Website: http://www.earthsnewbeginning.com
###