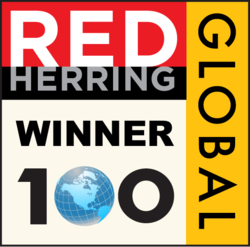 Publitas.com should be extremely proud of its achievement, the competition for the Top 100 was fierce. The Top 100 Global are truly the best of the best.
San Francisco, California (PRWEB) December 16, 2011
Publitas.com has been recognized as a leading tech startup by Red Herring, who has announced its Global 100 award in recognition of the top private companies from North America, Europe, and Asia.
Red Herring's Global 100 list has become a mark of distinction for identifying promising companies and entrepreneurs. Red Herring editors were among the first to recognize that companies such as Google, Skype, Baidu, Salesforce.com, YouTube, eBay and many others would change the way we live and work.
"Choosing the best out of the previous two years was by no means a small feat," said Alex Vieux, Chairman of Red Herring. "After rigorous contemplation and discussion, we narrowed down our list from 1,100 potential companies to 100 winners. It was an extremely difficult process. Publitas.com should be extremely proud of its achievement, the competition for the Top 100 was fierce. The Top 100 Global are truly the best of the best."
The Global 100 award is Publitas.com's third award in 2011, after having previously won Red Herring's Europe 100 and the White Bull Bully awards earlier this year. "We're incredibly excited to be recognized as an innovator within the mobile e-commerce industry, not only in Europe but also on a global scale," stated Guillermo Sanchez, CEO of Publitas.com. "It's been an amazing journey so far. We're very proud of our wonderful team that has taken Publitas.com to the next level. We're passionate about meaningfully impacting the way people shop online. Our next goal is to carry out this vision on a global scale."
Red Herring's editorial staff evaluated the companies on both quantitative and qualitative criteria, such as financial performance, technology innovation, management quality, strategy, and market penetration. This assessment of potential is complemented by a review of the track record and standing of startups relative to their sector peers, allowing Red Herring to see past the "buzz" and make the list an invaluable instrument of discovery and advocacy for the greatest business opportunities from around the world.
For a complete list of the 2011 Red Herring Top 100 Global winners, please visit Global 100.
About Red Herring
Red Herring is a global media company uniting the world's best high technology innovators, venture investors and business decision makers in a variety of forums: a leading innovation magazine; an online daily technology news service; technology newsletters, and major events for technology leaders around the globe. Red Herring provides an insider's access to the global innovation economy, featuring unparalleled insights on the emerging technologies driving the economy. For more information, please visit Red Herring at http://www.herring100.com, or follow Red Herring on Twitter @redherringconf.
About Publitas.com
Publitas.com is a privately held software company with offices in the Netherlands and San Francisco, California, that enables retailers to drive conversion with online and mobile catalogs. Publitas is used by retailers of all sizes, including leading brands such as ASOS.com and Metro Cash & Carry International. For more information, please visit Publitas.com at http://www.publitas.com, on Facebook or follow Publitas.com on Twitter @Publitas.
###