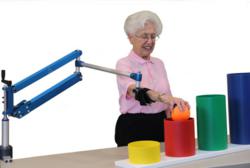 Therapists recognize that the SaeboMAS will allow them to do more with their 'low level' patients, and in many cases, will allow them to work with more than one patient at a time.
Charlotte, NC (PRWEB) December 19, 2011
Saebo, Inc., a leading international provider of upper-extremity stroke rehab products, announced today that it has launched the SaeboMAS (patent pending), a revolutionary new product that will enable more patients to achieve better outcomes in their stroke rehab and other therapies. The SaeboMAS was developed jointly by Saebo, Inc., and its exclusive distributor in the Benelux countries, Hankamp Rehab, BV, a leading distributor of rehabilitation products in Belgium, Holland and Luxemborg. Hankamp will have exclusive distribution rights to the SaeboMAS in the Benelux countries, Germany, Switzerland and Austria, while Saebo retains global distribution rights for the rest of the world.
"Throughout the country, we have seen that many patients simply do not have adequate upper extremity strength necessary to effectively incorporate the arm in functional tasks," stated Saebo's President, Henry Hoffman. "The SaeboMAS will enable these patients to begin task-specific training that will increase range of motion, improve strength, and ultimately, enhance functional independence," Hoffman concluded.
With a patent pending adjustable spring-based parallelogram design, the SaeboMAS can incorporate multi-directional movement across all planes. It is lightweight, portable and height adjustable with a measureable, graded tension scale to facilitate tracking and documentation of functional gains.
"Throughout the US and Canada, we have had tremendous early interest in the SaeboMAS from clinicians that treat both neurological and orthopedic patients," commented Rick Moore, National Director of Sales. "Therapists recognize that the SaeboMAS will allow them to do more with their 'low level' patients, and in many cases, will allow them to work with more than one patient at a time. The facilities we work with are always looking for opportunities to increase their revenue and improve their clinician productivity, especially in the current cost-conscious reimbursement environment."
About Saebo:
Saebo, Inc. is a global provider of innovative rehabilitation products for stroke survivors and other neurologically impaired individuals. Headquartered in Charlotte, NC, the company was founded in 2001 by two occupational therapists specializing in stroke rehabilitation. Saebo's pioneering treatment protocols are based on new research documenting the brain's remarkable ability to "re-program" itself following injury. The company's neurological orthotic devices, SaeboFlex and SaeboReach, allow patients with very little residual hand function to forge new pathways in the brain to immediately begin grasping and releasing objects in high repetition exercises. Named Most Valuable Product in 2008 by Therapy Times, the SaeboFlex and SaeboReach are now offered at over 1,500 clinics and hospitals nationwide. Used within 22 of the "Top 25 Rehabilitation Hospitals" (U.S. News & World Report), Saebo products are eligible for reimbursement by Medicare and most commercial insurers. A network of over 6,500 Saebo-trained clinicians, spanning four continents, is committed to helping stroke survivors around the globe achieve a new level of independence. For more information, visit http://www.Saebo.com or contact Chris Klett at CKlett(at)Saebo(dot)com.
About Hankamp Rehab: Located in Enschede, the Netherlands, Hankamp is a leading provider of rehabilitation products throughout the Benelux countries. Hankamp offers a complete line of upper extremity rehab products to patients, clinics and hospitals throughout its territory. Through its affiliates, Hankamp also designs and manufactures precision industrial and rehabilitation equipment for distribution throughout northern Europe. For more information about Hankamp, visit http://www.hankamprehab.nl or contact Freek Tonis at F.Tonis(at)Hankamp(dot)nl.
###