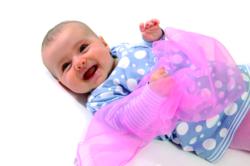 It's wonderful to be able to share the importance of music to new parents.
Solihull. West Midlands (PRWEB UK) 28 December 2011
Rhythm Time, one of the leading providers of educational music classes for babies, toddlers and pre-schoolers, has enjoyed further success during December 2011 after its free baby music class demonstrations on the 5th and 6th of December attracted high numbers of parents who have subsequently decided to sign up for classes.
'It's very important for parents to be able to try our fun and educational music classes for young children before they commit to classes on a regular basis" says Kathy Doolan, owner and Founder of Rhythm Time. "Once they experience first-hand how the classes can genuinely benefit their children (for example by enhancing speech development, social skills, confidence, co-ordination, creativity, as well as many other areas), the majority of them will sign up for the long-term until their child reaches school age."
Rhythm Time Franchisee, Lyn Warner, who runs classes across parts of the West Midlands, ran a highly successful baby music class demonstration on the 6th December that will result in approximately 18 children joining her successful classes. "It's wonderful to be able to share the importance of music to new parents" she quotes. "It's so incredible to see a child get immersed in a piece of music - from a small baby where they will naturally move their body in time to the rhythm, to a pre-schooler who is able to tell you how the music makes them feel."
Rhythm Time is passionate about the benefits of music. In fact, this year, they have supported the National Year of Communication's Hello campaign by helping to provide musical resources for families of children at Birmingham Children's Hospital requiring Speech & Language Therapy (SLT). SLT Therapists at the BCH have been utilising Rhythm Time class principles to meet some of their aims to promote early language development and interaction opportunities.
Alongside the benefits that music providers such as Rhythm Time provide to the very young, the Government has also set out its vision for music education for children of school age and beyond in its National Plan for Music Education: The Department for Education has announced 'it will continue to fund music education at significant levels during difficult economic times…..When young people make music together, they work towards a common goal that has the potential to change lives profoundly for the better' it quotes in the Plan.
To enjoy music, it is important to nurture and foster an interest in it as early as possible. Children who are exposed to a wide variety of musical concepts and experiences (particularly at baby music classes and beyond) will enjoy music for the rest of their lives. They are also at their most receptive at this young age and research shows that it will benefit them in three ways: emotionally, intellectually and physically.
Rhythm Time provides a set of unique music courses specially written by Kathy Doolan who was previously Head of Music at a Scottish school. Each course (aimed at three different age groups: babies, toddlers and pre-schoolers) helps with development and learning and provides continuity of skills achieved at each stage.
In their baby music class, activities aim to stimulate vision, listening and sense of touch. This helps with eye tracking, balance, development of the inner ear, speech, language and small motor movements.
In their music classes for toddlers, the musical activities aid listening and concentration. Hand eye co-ordination and motor skills are strengthened by using musical instruments. Language and vocal chords are developed from singing.
In their music classes for pre-schoolers, their communication, language, literacy, maths skills and creative development are developed.
Subsequently, children can enjoy a wonderful introduction to music and to future music making.
For a free trial at a Rhythm Time toddler, pre-school or baby music class, or for more information on owning one of their music franchises throughout the UK, contact Kathy Doolan on 0121 711 4224 or visit their website.
Information For Editors
Rhythm Time
76 Beechwood Park Road
Solihull
B91 1ES
Telephone: 07813 831516 / 0121 711 4224
Email: marketing(at)ftfg(dot)co(dot)uk
Rhythm Time was started in Solihull in 1995 by Kathy Doolan. After a very successful five years, Kathy decided to franchise the business in 2000.
All the courses have been created by Kathy, who trained at the Royal Scottish Academy of Music & Drama in Glasgow.
Rhythm Time now has franchises all over the UK, operating in 300 venues with approximately 9500 children attending classes
Rhythm Time offers three age-appropriate classes for babies (birth to 15 months), toddlers (15 months to three years) and pre-school (three to school age).
Children come to Rhythm Time as tiny babies and progress to toddler and pre-school classes, enjoying a wonderful introduction to music.
A free trial session is offered to all parents before they decide to join.
Kathy shares with all her franchisees and teachers a real passion and belief in the importance of music during a child's formative years. She is also a strong believer that singing unaccompanied helps to develop a child's speech and language from an early age and this forms a key element in all the classes.
In April 2011, Rhythm Time was contacted by a Speech and Language Therapist at Birmingham Children's Hospital (and a member of the Hello Campaign) to request support through donations of their music and instruments. This would enable them to run activities with some of the patients that would stimulate speech, language and communication skills and carry out the work of the campaign.
###