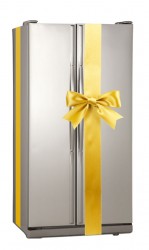 With sales projected to increase even further in the rush to Christmas, retailers still debating whether to introduce an online offering in Canada stand to miss out big time
Quebec City, Quebec (PRWEB) December 15, 2011
Even as apps, consoles, e-readers, iPads, Xboxes and Wii systems abound, the 21st century kid still seems to love his or her traditional toys, according to Shopbot.ca, and thousands of elves will be keeping their jobs this Christmas. That's the good news.
In other news, an unusual number of Canadians will find a gift-wrapped refrigerator sitting under the tree this year, too, and thousands of appliance manufacturers and suppliers may keep their jobs this Christmas as well.
With one week left, Canadians are coming online to Shopbot in waves to wrap up their holiday shopping, and more than a few are buying refrigerators. Searches for the appliance are five times higher than any previous 30-day period this year, and over 4% of those searches are converting to sales.
"We can't explain it, but people are gifting appliances this year," says Shopbot National Sales Director Ashley Bienvenu. "With hundreds of products on offer by Home Depot, Sears and Staples, Shopbot customers are putting a bow on everything from mini-fridges for the office to wine chillers and full-size stainless steel kitchen refrigerators."
The uptick in searches for traditional toys also is noteworthy, particularly as Toys 'R' Us launched a uniquely Canadian e-commerce offering in November and is now among the more than 300 retailers marketing their products through Shopbot.ca.
"Consumer searches for computers, electronics and video games is generally on pace with our expectations for holiday season shopping, but traffic to and through our 'toys' product category has tripled since October," says Bienvenu. "Canadian kids are asking for dolls and board games."
Lifted by conversion rates of up to 6%, and perhaps possessed by the enthusiasm for unwired play time, toy retailers are responding with additional incentives for traditional gift givers, such as free and flat shipping rates nationwide for purchases through the holidays.
"With sales projected to increase even further in the rush to Christmas, retailers still debating whether to introduce an online offering in Canada stand to miss out big time," says Bienvenu.
Shopbot.ca is Canada's premier online bargain shopping engine. Launched in 2004 and specifically tailored to connect discerning Canadian consumers with competitive Canadian retailers, Shopbot utilizes its own award-winning product search technology to surface the most relevant results for customers and the lowest prices. Shopbot's model of delivering convenience, comparison and value to Canadian households — and quality traffic to its merchant partners — has grown so successful, the company has expanded to offer similar online comparison shopping services in Australia, Brazil, New Zealand and South Africa. http://www.shopbot.ca
CONTACT
For further details or to schedule an interview, please contact Ashley Bienvenu at Ashley(at)shopbot-inc(dot)com or on 612.424.3822.
###