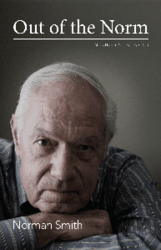 (The author) views his writing as a continuing form of ministry.
Daly City, Calif. (PRWEB) December 20, 2011
When he first started writing short fillers for the weekly bulletin of Bethel Christian Church in San Francisco, pastor Norman Smith never dreamed they would have any longevity. He simply saw them as another chance to connect with members of his congregation. Now retired, he shares some of these "mental meanderings" in this new book, compiling and polishing the best of these gems. Smith views his writing as a continuing form of ministry – telling the truth through everyday actions. "Work, recreation, ministry, serving, laughing, call them what you will, if done honestly, all become worship," he writes.
"Out of the Norm: Musings of a Pastor" has a free-flowing life of its own, as sacred moments pair up with the downright trivial. An entry on prayer may follow one on paper clips. Absurdities are up for examination. For instance, in "Sound Healing," one of the first entries, the author admits he missed celebrating World Sound Healing Day and wryly asks his readers if they have done their part to add to the healing sounds of the universe. The next entry, "The Rose Bush," focuses on the spiritual implications of the author's battle with a gopher over a rose bush. The cornered gopher's seeming repentance for his deeds leads a puzzled Smith to finally deliver him to safety – putting him on the other side of the fence – instead of meting out deserved judgment.
The author writes in a conversational style, whether telling a homespun story about Christian youth camps, or noting the absurdities of spell-check, or offering more serious reflections on forgiveness and God's promises. He mingles humor and guile in easy prose that both entertains and provokes thought. Smith worked as carpenter for ten years, then spent the next 32 years as a high school teacher before becoming a pastor, and here brings a new perspective to the mundane and the profound that will last long after the book is finished.
Out of the Norm: Musings of a Pastor
Norman Smith
Dog Ear Publishing
ISBN: 978-1-4575-0475-4, 324 pages, $16.95 US
Available at Ingram, Amazon.com, Barnes & Noble and fine bookstores everywhere.
About Dog Ear Publishing, LLC
Dog Ear Publishing offers completely customized self-publishing services for independent authors. We provide cost-effective, fast, and highly profitable services to publish and distribute independently published books. Our book publishing and distribution services reach worldwide. Dog Ear authors retain all rights and complete creative control throughout the entire self-publishing process.
Self-publishing services are available globally at http://www.dogearpublishing.net and from our offices in Indianapolis.
Dog Ear Publishing – self-publishing that actually makes sense.
###