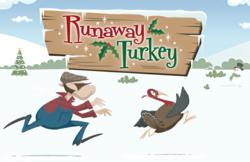 The new Katie's Cards Facebook application helps support the modern way of life by allowing users to send any from the collection to their Facebook contacts. Users can instantly respond to news and announcements and view a list of upcoming birthdays
Teddington, Middlesex. UK. (PRWEB) December 15, 2011
As the trend for using social media websites such as Facebook and twitter continue to rise, many companies are finding ways to offer their products and services through applications that can be accessed on social networking sites. To remain at the forefront of the ecard sector, Katie's Cards have developed and launched a fantastic Facebook 'app' just in time for customers to send Christmas e cards to their Facebook friends, as well as access useful birthday reminders directly from Facebook.
Trends for communicating with loved ones, via social media sites have grown significantly in the last 10 years. Another online channel for connecting with friends and family that is experiencing an up-lift is the rise in popularity of e cards. In an increasingly mobile, global society, people are choosing to embark on long term-travel or international job relocation, connecting with friends and family through social media is an easy solution. The global financial crisis has also encouraged people to go online to benefit from this low cost form of communication, which can save money and help limit the ever-increasing rise in the cost of living.
The new Katie's Cards Facebook application helps support the modern way of life by allowing users to send any ecards from the collection to their Facebook contacts. Users can instantly respond to news and announcements about their family and friends with an e card as well as view a list of upcoming birthdays enabling pre-schedule cards for delivery at future dates. The application cleverly links the user's Facebook account to their Katie's Cards account allowing them to send e cards to all of their Facebook contacts inbox, and post them to their wall.
With Christmas just around the corner, this is the perfect time for the new development. Sending a Christmas ecard to loved ones this year has never been easier. The application has been cleverly set up to be used by members and non members, however, members get the most out of its functionality with the ability to send all of the ecards from the collection, whereas non members are restricted to just the 'free ecards' category.
The addition of the Facebook development coincides with some brand new Christmas e cards that have joined the bulging Christmas e card collection. Festive options include the ever popular 'Turkey Breakout' series featuring turkeys attempting to escape their Christmas fate. 'Christmas Cottage', a cosy scene portraying a snowy country cottage and a warm open fire, the moving 'Christmas Candles' card, spreading the message of peace at Christmas time. 'Christmas Presents' is a modern, upbeat card animated to snappy jazz music. 'Lob the leader' is an Ecard-game, players have to hit leaders of the British government with snowballs as they pop out from behind various Christmas-themed objects and the 'Scrooge Game', requires the player to help Tiny Tim catch falling coins, as well as many more.
Katie's Cards is a small, family run e card company who have created over 170 different e cards to suit all occasions, tastes and ages. Browse birthday ecards, Christmas ecards Easter e cards, Valentines day, Mothers and Fathers day, new baby, wedding day, thanksgiving, Hanukkah and many more. They charge a small subscription fee in return for unlimited access to every card they create and are adding new cards and game-cards all of the time. Members have access to their own account from which they can plan and pre-schedule deliveries, manage their address book and monitor e card deliveries. For more information and to preview the cards visit katiescards.com/
For more information:
Telephone: +44 208 274 2069
Facebook: facebook.com/Katies.ecards
Twitter: twitter.com/#!/katiedavies
Copyright information: This article is free for reproduction but must be reproduced in its entirety, including live links; this copyright statement must be included. Visit katiescards.com for more services!
###