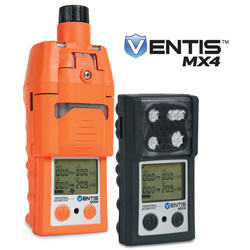 Pittsburgh, PA (PRWEB) December 14, 2011
Industrial Scientific, the global leader in Gas Detection as a Service, is pleased to announce that the Ventis MX4 multi-gas detector has received the ANZEx and INMETRO approvals for intrinsic safety.
With ANZEx approval, applicable to the Australian and New Zealand markets, the Ventis now bears marking codes Ex ia s Zone 0 I; Ex ia s Zone 0 IIC T4; and IP66 / IP67. With INMETRO approval, applicable to the Brazilian market, the monitors now bear marking codes Ex d ia IIC T4 Gb; and IP66/ IP67.
The Ventis, Industrial Scientific's newest multi-gas detector, is a lightweight, highly configurable instrument that is capable of detecting one to four gases including oxygen, combustible gases (LEL or CH4) and any two of the following toxic gases: CO, H2S, NO2 and SO2. Ideal for both confined space monitoring and continuous personal monitoring in potentially hazardous environments, the instrument is designed to keep workers safe in a variety of industries. In confined spaces, the Ventis can be used to draw samples from up to 100 feet with its integral pump.
The Ventis is fully compatible with iNet® - the unique Gas Detection as a Service solution. iNet helps companies around the world keep their workers safe by providing visibility into gas detector alarms, exposure and usage.
To learn more about the Ventis MX4, visit http://www.indsci.com/ventis.
About Industrial Scientific Corporation
Industrial Scientific Corporation is the world's leading provider of Gas Detection as a Service. With more than 850 people working in 20 countries, Industrial Scientific is dedicated to eliminating death in the workplace by the end of this century. Achieving this goal requires dedication to delivering highest quality and best customer service in all transactions. Industrial Scientific also focuses on providing analysis of data from equipment use and maintenance to identify problems before they happen. Industrial Scientific has operations based in Pittsburgh (USA), Arras (France), Dortmund (Germany) and Shanghai (China). The company provides technical services to customers from local service centers around the world, and has additional offices in Australia, Bahrain, Brazil, Canada, Czech Republic, India, Indonesia, Italy, Mexico, Netherlands, Poland, Qatar, Saudi Arabia, Singapore, United Arab Emirates and the United Kingdom. Industrial Scientific is the parent company to Oldham (http://www.oldhamgas.com) and Predictive Solutions Corporation (http://www.predictivesolutions.com). For more information, visit http://www.indsci.com.
###