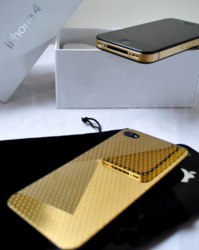 "Within 4 hours you will be plating perfectly with pure 24k Gold"
(PRWEB UK) 16 December 2011
Following their press release in October, Gold Solutions have now extended their offer of subsidised training courses in 'how to gold' plate anything from an Apple iPhone or Ipod to a full bathroom suite, and anything metal in-between.
Gold Solutions are once again offering the public the opportunity to find out how to gold plate any metal household item for themselves. For the next two months they are offering a full professional 4 hour training course at subsidised prices, just so that anyone wishing to get in to this lucrative – and as yet – untapped market can do so.
Terry George of Gold Solutions says "We were rather overwhelmed with the response from the general public, as well as many businesses, expressing an interest in becoming involved in this exciting new innovation. The fact that you can go down any High Street in the country and not see, for example, a gold plated iPod or iPhone in any shop window is proof that the market is wide open."
Again, George "Many people will be receiving a wide range of affordable yet totally unique gifts this Christmas simply because of the growing desire for people to find a more effective way of spending their money. When things get tight people do not stop spending, the just choose more carefully what they spend their money on."
Taking a low cost professional training course is the perfect way to see exactly what is involved in this process before deciding how to proceed with this affordable low start up cost business.
With an ever growing number of buyers of their home DIY plating kits and chemicals in the UK and overseas, as well as creating the world's first ever Gold Plating Guild that visitors can go to and find a gold plating service (GPG member) in their own area or region free of charge, Gold Solutions are determined to get these products and services to everyone in every town and city anywhere in the world.
With existing Operators earning between of £50 and £300 per hour, and with no previous experience required, it is easy to see why people are turning to this all over the world to generate some extra income.
Again, George "When jobs and incomes get threatened people always look for other ways of making up the 'shortfall' in their monthly expenditure and buying into a wide open market that does not require any large capital costs becomes an ideal solution. Someone buying just 100ml of 24k gold solution a month could make over £500 clear profit - and to do this it would only take 2-4 hours work!. Sometimes that is the difference between paying their mortgage or losing their home".
Gold Solutions will also be announcing in the new year the start of a charity with the aim of raising money utilising its gold plating facility. It is intended that a range of products will be plated with 24k gold and sold for various charitable causes.
For further details please contact: http://www.goldsolutions.eu/
###