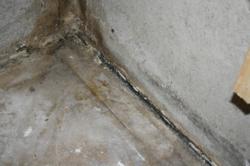 Do not make the mistake of overlooking your basement when preparing your house for winter
Danbury, CT (PRWEB) December 16, 2011
DryX Waterproofing company is advising owners to seriously consider waterproofing their basements in the light of another brutal winter forecast for 2012. Freezing winter weather bringing snow and sleet, can cause moisture to seep or leak through the sides of homes due to poor or no waterproofing. A leaky basement will most often require expensive emergency plumbing repairs and eventually become a health hazard.
Excessive moisture can damage a home's foundation and encourage mold and mildew growth. DryX recommends an effective waterproofing solution to prevent damage not only from leaking walls and standing water, but from the permanent destruction caused by freezing temperatures and ice that results from an improperly sealed basement.
Use of trusted reinforcement technology will shore up basement walls, preserving their integrity against deforming and weakening ice crystals. A professional basement waterproofing solution will ensure proper drainage within a basement, channeling water through a drainage system to keep water flowing into a sump basin, and so prevent damage from freezing.
###