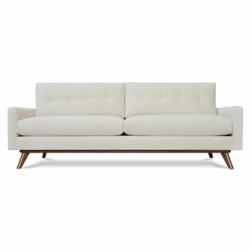 the Fillmore keeps in line with our core values, design what is functional, and execute it.
Los Angeles, CA (PRWEB) December 16, 2011
Thrive Home Furnishings, a division of Versa Products, Inc., designs and creates home furnishings from start to finish in its Los Angeles based factory. Now Thrive is pleased to add the Fillmore sofa its selection of Mid Century Modern sofa designs.
"In developing the Fillmore, we kept it simple. No over the top statement is necessary. Simply refined and simply designed, the Fillmore keeps in line with our core values, design what is functional, and execute it." said Josh Stellin, Director of Thrive Home Furnishings. The Fillmore sofa features a flared, solid wood base, and clean minimalist lines that define Mid Century Modern design. In addition, the slim profile arm and button tufting, low arms and a high back for support complete the Fillmore sofa design. As with all other Thrive Home Furnishings sofas, customers can choose from 14 different fabric colors and 4 different leather colors when they order a Fillmore.
The term Mid Century Modern furnishing was coined by writer Cara Greenberg, in her book "Mid-Century Modern: Furniture of the 1950s". Inspired by minimalist Scandinavian furniture designs of the 1930s and 1940s, Mid Century Modern home interior design places emphasis on wood choice and on the simple beauty of well-made furniture. Today, Thrive Home Furnishings draws inspiration from Mid Century Modern elements to bring the 1950s look to quality conscious furniture buyers.
Thrive Home Furnishings specializes in functional, locally handcrafted furniture made with American based raw materials including Forest Stewardship Council certified wood. Because Thrive Home Furnishings does not outsource any of its manufacturing processes, customers have the benefit of working with Thrive's in-house customer care team when they have questions or need replacement parts. Thrive Home Furnishings customers can also visit the Los Angeles factory to see furniture designs as they are made.
###