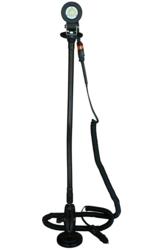 We are putting one of our most popular LED lights on a magnetic base with a flexible goose-neck mount for low voltage applications, including vehicles and heavy equipment maintenance
Kemp, Texas (PRWEB) December 15, 2011
The LEDP10W-1R-GNM Low Voltage Goose-Neck LED light from Larson Electronics' Magnalight.com is an extremely versatile lighting solution that combines almost infinite adjustment and placement ability with high power and convenient 9-46VDC power options. Built to provide a rugged and versatile light source for heavy duty applications, this 10 watt LED light produces 860 lumens while drawing only 1/4 amp at 12 volts.
The heavy duty LED lamp is constructed of extruded aluminum with a polycarbonate lens for strength and durability and is rated IP68 waterproof to three meters.
This adjustable LED light provides a long list of impressive features including high grade LED drivers which incorporate PWM control technology to provide the most power and longest LED life possible, as well as the ability to connect external controllers for dimming and flashing effects. The unique mounting system on this LED work light includes a 100lbs grip magnetic base for secure attachment to metallic surfaces, a bendable 20" goose-neck that can be bent into any angle and will hold position once set, and a locking double ball joint that adds even more adjustability.
This extreme adjustability makes this ideal high power LED light for close quarters work like vehicle or heavy equipment repairs where mechanics are often forced to work within the cramped quarters of an engine bay. Operators will also appreciate the cool operation of this unit, which reduces the chances of accidental burns that are often associated with incandescent work lamps. Operation of this LED light is as easy as attaching the magnetic base to a convenient metal surface and positioning as needed.
This magnetically mounted LED work light will work with any voltage ranging from 9 to 46 volts DC, allowing operators to connect the unit directly to the electrical systems of vehicles, equipment, boats and ATVs without the need for transformers or inverters.
This powerful LED work light can be ordered in spot or flood configurations and Magnalight.com offers several cord and connector options as well to allow the easiest connection to power sources possible.
"We are putting one of our most popular LED lights on a magnetic base with a flexible goose-neck mount for low voltage applications, including vehicles and heavy equipment maintenance," said Rob Bresnahan with Larson Electronics' magnalight.com. "This is a compact, lightweight, high powered LED light source that can be positioned at any angle to assist in working on equipment, vehicles, pumps and generators. Since it runs on any voltage, including 12 volts, 24 volts and 36 volts, it is extremely versatile."
Magnalight by Larson Electronics carries a comprehensive line of LED lights, LED light bars, LED work lights and LED spotlights and continually expands its LED light inventory. Visit Magnalight.com to view the entire line of Magnalight LED lights or call them at 1-800-369-6671 or 1-214-616-6180 for international inquiries to discuss purchasing and special ordering requirements.
###