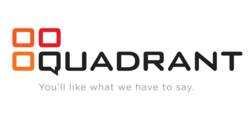 (PRWEB) December 15, 2011
Don Gilroy, V.P. Strategy and Creative Director of Quadrant Marketing Ltd. is pleased to welcome Kevin Weagle to the position of Creative Director. Previously, Kevin held the position of Associate Creative Director at Bimm Direct & Digital. He brings broad category experience, featuring tier-one clients including Audi, Toyota/Lexus, Sears and TELUS. His experience, particularly in digital and CRM, will provide deeper insights to Quadrant's current CPG and Foodservice clients and will be an ongoing asset in expanding the agency's category reach. Kevin has numerous awards to his credit including ECHO, CMA Gold, and NAMMU awards.
About Quadrant
Founded in 1987, Quadrant Marketing Ltd. is a full-service strategic marketing and communication agency with a staff of over 55. Services span a wide spectrum including traditional, digital and social media, in-store marketing, direct mail and more. Quadrant truly understands the Canadian shopper and through its proprietary Canadian shopper marketing research which connects the dots between the consumer, the brand and the retailer. Quadrant's client retention rate is unparalleled in Canada and is a testament to its great people and its commitment to excellence.
http://www.quadrantmarketing.com
###