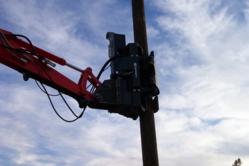 Tough Handling Equipment
(PRWEB) December 15, 2011
Announcing the new 3212 ROD Pipe and Pole attachment. This unit designed and built by Rotobec opens to 32 inches and closes down to 12 inches.
Designed for tele-handlers or excavators, Rotobec's Pole & Pipe Handler allows you to position, remove and stack support posts used in the construction of bridges and highways. It is also ideal in handling pipe in oil and gas applications where a high degree of control are required. It can also handle other pipes or poles, and vertically position them.
APPLICATION:
Used in building bridges to place, remove and re-stack pipes used in bridge falsework, oil and gas pipe applications, utility companies for handling and placing high value poles, quickly and safely. The 2209ROD Pipe Handler opens to accept up to 22" pipe diameter and closes to a 9" diameter. It can be mounted on excavators and high reach telescopic lift trucks. The 3212ROD opens to 32" and closes to 12" can be mounted on an excavator or tele-handler.
TECHNICAL INFORMATION:

Selector valve mounted on the grapple for 12 or 24 volt systems
165,000 psi tensile strength steel (65% stronger than T1 steel)
Lock valve on all cylinders
Bronze spiral cut bushings with greasing nipples
Call or email us for more technical information.
Mark Shukla
Director of Sales and Marketing
markshukla(at)gmail(dot)com
424.653.9019
###