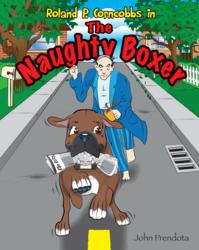 They are one of the best family dogs out there and are wonderful with children.
Wausau, WI (PRWEB) December 16, 2011
– The book is called The Naughty Boxer and after looking at the cover you already know who the star of the story is. His name is Roland P. Corncobbs and yes, he is quite the goofball. This very colorful children's book is about a mischievous Boxer that gets into trouble while at the same time teaching children some do's and don'ts of dog ownership. The book is based on the antics of John Prendota's real life Boxer Roland.
He was just a twelve week old puppy when he was found on a highway off ramp and brought to the local shelter as a stray. A friend of John's worked for a nearby shelter and knowing his affinity for the breed let John know the Boxer puppy was down at the shelter. Three years later and Roland is better than ever.
The idea for the book came over a year ago when he was thinking about all the silly things Roland does on a daily basis and how people would sometimes be frightened by the way the dogs look, often mistaking the Boxer for a different breed. "There seems to be this misconception out there from non Boxer owners that they are this big scary animal, but it couldn't be further from the truth. They are one of the best family dogs out there and are wonderful with children. What I really wanted to do with this book is to give the reader a feeling of what having a Boxer is like and I think I accomplished that," said John Prendota.
After the book was completed he was really looking around for a good rescue organization to donate to. John came across Boxer Luv Rescue of Phoenix, Arizona and saw day in and day out how far they went to help these animals. They have rescued over six hundred and thirty Boxers this year alone.
One dollar from every sale of The Naughty Boxer (available at Amazon.com) for the next year will go to Boxer Luv Rescue. (Boxerluv.org)
###