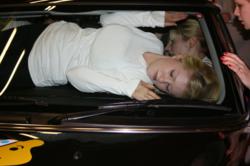 London (PRWEB UK) 15 December 2011
It's official! Female gym staff and members at David Lloyd Leisure's Eastbourne club are world record holders – after 27 of them demonstrated their girl power by squeezing into a BMW Mini in aid of charity.
Guinness World Records has confirmed that the fundraisers broke the world record, previously held by a New York dance club who forced 26 people into the same car.
The breathtaking feat, which took 13 minutes to complete and raised £1,778 for Children in Need, was achieved after five weeks of training and rehearsing, which included stretching exercises, building people pyramids and hula-hoop challenges.
A crowd of 400 watched the record attempt by the gutsy group of women, aged between 18 and 43.
The Mini was provided by Chandlers BMW for the challenge, which took place at the club in Hampden Park.
Club DL Kids co-ordinator and swimming coach, Dani Maynard, who organised the event, said: "We didn't think we could do it and it was so uncomfortable at the end – I was worried that the last girl would break her legs and there was absolutely no air left in the car.
"We're absolutely delighted that our efforts paid off and we can now call ourselves world record breakers! What makes this even more amazing is that unlike previous holders, who were dancers and cheerleaders, we are real women of all shapes and sizes – just like the Calendar Girls."
David Lloyd Eastbourne general manager Ben Underwood added: "This was no mean feat – what Dani and her group achieved is truly incredible. I am also delighted that their efforts raised so much money for such a good cause."
Note to editors:
For further information about this press release, contact the David Lloyd Leisure press office on 01707 289833 or email press(at)davidlloyd(dot)co(dot)uk
About David Lloyd Leisure Group
The David Lloyd Leisure Group operates 80 clubs in the UK and a further 10 clubs across Europe.
David Lloyd Leisure has over 450,000 members and employs 6,000 people. This includes an expert health and fitness team of over 1,800 and contracts the services of more than 400 tennis professionals.
Across all clubs, David Lloyd Leisure has over 150 swimming pools (of which half are indoor) and offers over 10,000 exercise classes per week. Every week 20,000 children learn to swim at David Lloyd Leisure and 14,000 learn to play tennis. Its racquets facilities are unparalleled with 700 tennis courts as well as 180 badminton courts and 140 squash courts. Additional facilities include health and beauty spas, club lounges with free internet access, crèches, nurseries and specialist sports shops.
###