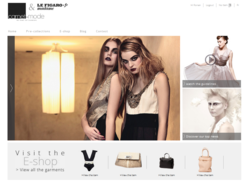 « A very wise system » Canal +
« Young designers, Ready? Steady? Go! » Glamour
Paris, France (PRWEB) 15 Décembre 2011
Further to a fast growing success in France, Carnet de Mode moves on the international scale and is looking to raise funds to help its growth.
In less than 1 year, more than 60 international designers have presented their future collections online, and more than 200 will join the community in a few weeks. Launched January 12th, 2011, Carnet de Mode is continuously increasing in innovation and creativity.
Its unique concept of crowdfunding consists, first of all, in connecting the top emerging fashion designers to fashion enthusiasts by supporting them financially. Indeed, customers invest and finance designers' collections in return for exceptional and original pieces and an important return on investment. A direct relationship that lets fashion lovers the freedom to be the main actor of the future trends.
Moreover, an E-store is available on the platform. Thus, designers can create their own E-shop space online for shoppers, wherever they both are.
As a real Parisian temple of fashion, Carnet de Mode brings unique feeling and exception to shoppers who are always looking for rare pieces. Established as a real worldwide talent hunter, Carnet de Mode presents limited edition of not only unique but also "avant- garde" collections. Each brand available on Carnet de Mode has its own identity and story, but all have the same particular attention to their garments' quality and details.
Now, a new Website Design is in process for more interactivity and proximity between designers and customers. But also, to offer a maximum of visibility and awareness to talented designers who deserve their chance. Carnet de Mode obtains editorial supports and social media in order to get them recognized.
Carnet de Mode is also partner with influential and strategic editions and fashion organizations and websites. The Start up has lately collaborated with Madame Figaro, a top French and relevant fashion magazine. In November 4th, they both organized the White Swan Runway, a fashion show celebrating the White colour. Impacting press coverage has followed the event.
Press Contact -
presse(at)carnetdemode(dot)com
Arbia SMITI +33 7 21 22 16 85
Amandine Azzopardi +33 7 61 72 16 85
# # #