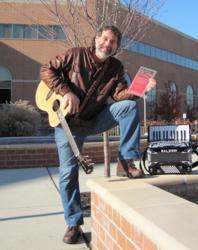 Our vision was to create a book that deserved a place in every rest room stall in corporate America.
Allentown, PA (PRWEB) December 15, 2011
A leader of Pennsylvania's Lehigh Valley construction industry has a radical new addition to his portfolio of 500 commercial buildings and renovations: a book.
Jim Gentile, founder and president of Allentown-based North Star Construction Management, is the co-author of The Bit Ching Book of Change, a new book from Peripate Press.
While Mr. Gentile's secrets to building a good reputation and rewarding career make up much of this entertaining little book, as one can gather from its subtitle –"Reinterpreting the Ancient Wisdom of The I Ching to Deal with Modern Day Morons & Confusion" – this is not your average "how to succeed" manual.
Co-written with Russell Slocum, Mr. Gentile's book is a radically Westernized interpretation of the I Ching: Book of Changes, the 5000-year old text widely considered to be the foundation for all Eastern philosophy. This fresh incarnation of ancient wisdom makes a very modern guide to defining and achieving one's own idea of success and happiness. As such, The Bit Ching Book of Change covers a lot of territory, but the 64 two-page chapters make it an easy read – brief, to the point, and ideal for readers short on time or attention spans.
"One of the things I always liked about the I Ching is that you can open it to any page and in two minutes get an inspirational perspective on something," says Mr. Gentile. "So we used the same short chapter format. Our vision was to create a book that deserved a place in every rest room stall in corporate America."
Initial reviews suggest that The Bit Ching is making headway in that direction. One reviewer calls it, "A fun read for aspiring entrepreneurs, self-reflectors or people just looking for some inspiring short stories." Another recommends it "to anyone starting a business, wishing to succeed in a relationship, or just desiring to live purposefully and honestly."
The book is not Jim Gentile's first foray into the fine arts. In the chapter entitled "Find Two Passions," The Bit Ching Book of Change advises that, "The harder you work, the more important it is to find something outside of it to help you keep your balance… no matter how much you work, you don't have time not to have fun."
For Mr. Gentile, music has long been that second passion. He plays six musical instruments, sings, and writes songs. He co-founded a band called The 3 Jakes that played at the Bethlehem Musikfest and recorded a CD. Jim has produced albums for major recording artists including Kansas, Brady Seals, and the Rhythm Devils, which includes members of The Grateful Dead and Phish.
Another common theme in The Bit Ching is trying your best in every undertaking. Again Mr. Gentile has long practiced what he preaches. Before getting into construction he worked as an inventor, and has his name on several patents for alternative power sources, including the lithium MnO2 battery.
Like its out-going co-author, The Bit Ching does not always tread lightly on the path to enlightenment. There may be a serious message behind each chapter, but the authors don't hold back on humor, expletives, or perspectives on the common practices and personality traits that they feel get in the way.
As a young manager at a large corporation put it, "It's like guidance from a sort of Buddha with brass balls."
The paperback is available online through Amazon, barnesandnoble.com, and several other online retailers. It was also just released as a Kindle eBook.
# # #