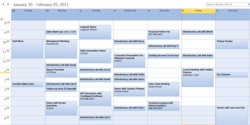 TimeTrade is extremely beneficial to any customer-facing personnel, significantly curtailing the process of finding mutually available time on everyone's calendars."

Anneke Seley (Author: "Sales 2.0")
BOSTON, MA (PRWEB) December 15, 2011
TimeTrade® (http://www.timetrade.com), maker of the world's most widely deployed online appointment scheduling SaaS system for business, today announced integration of the TimeTrade Cloud™ with widely used enterprise office suites: IBM Lotus Notes® and VMware Zimbra®. This capability extends TimeTrade's existing direct integration with Microsoft Exchange, now making TimeTrade's one-click appointment scheduling available to Notes and Zimbra users via outbound emails, web sites, and social media. Customers and prospects can access and book time with company personnel 24/7 anywhere, while giving companies an unprecedented opportunity to streamline how sales, support and customer service appointments are scheduled.
TimeTrade is unique in its ability to seamlessly integrate with the many diverse calendaring systems and collaboration platforms businesses use today-- to provide true unified calendaring across a company and those it serves. Company personnel can create "published availability" to let prospects and customers schedule appointments, while at the same time maintaining security-compliant privacy of their actual calendars.
"Over one million business users now connected to our TimeTrade Cloud schedule over 75 million business conversations per year," says Gary Ambrosino, President of TimeTrade. "It is an extremely powerful way of doing business when you can give customers and prospects the flexibility to choose a convenient time to meet or talk to the right person in your company and still maintain private control over your calendars and work schedules. The results of doing lead directly to significant increases in sales close rates, and much higher customer satisfaction."
Removing Barriers to Social Business
Businesses using office suites without TimeTrade (e.g. Outlook, Exchange, Notes, Zimbra) face significant barriers in setting appointments with anyone outside a company's security firewall. This relegates most appointment-oriented sales activity to a productivity killing exercise of "calling, waiting, and chasing." Existing office suites are not able to connect to sales and marketing automation systems to automate this important process. Since most businesses rely on outbound and inbound selling, they are forced to work within the limitations of those office suites when offering appointments to prospects and customers.
They can only offer single date and time appointments, and have to rely on a lot of back-and-forth emails to settle on a mutually acceptable date and time. Research studies have shown that sales reps, for example, spend up to five hours per week on this non-productive activity. Furthermore, legacy office suites do not provide any way for sales and customer service reps to receive appointments directly from websites, or for appointments to be made automatically with members of larger teams.
Finally: A Better Way to Book Appointments
Once office suite servers have been transparently integrated with TimeTrade, businesses that rely on Exchange, Notes or Zimbra will benefit from a robust set of new online appointment scheduling capabilities that can transform email and messaging into a powerful social business tool to automatically book phone and in-person meetings with prospects, customers, and partners. Because TimeTrade works at large scale, it can pool the combined availability of large groups of employees in different locations, and schedule them using TimeTrade's highly configurable rules-based scheduling system.
"Phone and in-person appointments define the when, where and how companies connect and engage to sell or service customers," says Anneke Seley (Author, of "Sales 2.0: Improve Business Results Using Innovative Sales Practices and Technology"). However as Seley observes, trying to set a "time to talk" through cold calling and email solicitation is "time consuming and exasperating for customers, as well as salespeople. TimeTrade is extremely beneficial to any customer-facing personnel, significantly curtailing the process of finding mutually available time on everyone's calendars."
Features & Benefits of TimeTrade:

Enables external prospects and customers visit a company website to see the 'availability' of company representatives and resources in real time.
Lets employees offer appointments through emails, email campaigns and social media, which are immediately confirmed for all attendees when customers pick a date/time.
Customers self-schedule when THEY would like an appointment. Appointments show up instantly and automatically in the calendars of company reps.
Individual Exchange, Notes, and Zimbra calendars remain secure and inaccessible – only configured "published availability" is presented to prospects and customers.
Connecting customers with the right resource is transparently handled through highly configurable routing rules that match a customer's query and needs with the right person, best team to serve them.
Beyond "human" resources, other schedulable resources include video conferencing slots, meeting rooms, equipment, inventory or any other in-demand company resource.
Direct integration with legacy office suites supports all access methods and mobile devices (web browser, Blackberry, iPhone, etc.)
About TimeTrade
As the world's most widely deployed and used online appointment scheduling provider TimeTrade increases sales and customer satisfaction through proven SaaS solutions that make it easy for customers and prospects to connect and converse with the right people inside a company. Its solutions power real-time, rule-based appointment scheduling across team members, locations, and timeslots to set the meetings that drive business For more than a decade, Fortune 500 companies have deployed TimeTrade Appointment CRM solutions to help them better engage, interact with, and satisfy their customers. The TimeTrade Cloud platform integrates easily with enterprise sales, marketing, service, CRM, and business process management systems to accelerate bottom-line business results and drive inbound sales, while enhancing customer experience and loyalty. TimeTrade's proven appointment scheduling solutions help brand-name retailers and other customer-focused organizations organize, automate and synchronize appointment setting across the entire customer lifecycle, and helps company reps act on customer interest, 24x7x365, anywhere, anytime. http://www.timetrade.com.
Press Contact: Patrick Rafter, prafter(at)timetrade(dot)com, 617-901-2697
TimeTrade Cloud, TimeTrade, Published Availability and TimeTrade Appointment CRM are trademarks or registered trademarks of TimeTrade Systems, Inc. All other product names and references contained herein remain the service marks, trademarks, or registered trademarks of their respective owners.
###