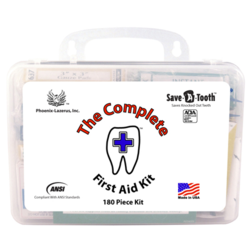 Pottstown, PA (PRWEB) December 15, 2011
Amazon.com has now rated The Complete Dental First Aid Kit as their #1 gift idea for first aid kits (http://www.amazon.com/gp/most-gifted/hpc/3762881/ref=zg_bs_tab?pf_rd_p=1331613022&pf_rd_s=right-7&pf_rd_t=2101&pf_rd_i=list&pf_rd_m=ATVPDKIKX0DER&pf_rd_r=0KZQJM3G416M4P1M56MZ). "What other gift can be used every day to heal medical and dental problems and potentially save $30,000 in dental bills?" says Dr. Paul Krasner, Diplomate of the American Board of Endodontics.
"The Complete first aid kit makes perfect sense for a gift," says Dr. Henry Rankow, Professor of Endodontics at Temple University School of Dentistry. "It is practical, lasts at least two years, everyone needs one and it is the only first aid kit that contains the Save-A-Tooth® (http://www.saveatooth.com/) emergency tooth preserving system". Not only does it contain all of the essential first aid items but also it is completely made in the USA and consists of US made parts.
The Save-A-Tooth® is the perfect inclusion for every first aid kit since a knocked out tooth must be bathed in a scientific solution, Hank's Balanced Solution (contained in the Save-A-Tooth), within the first hour after the accident. Although milk has become a popular recommendation for storing knocked out teeth, it is an old technology and, contrary to popular belief, is not easily available at an accident scene such as an automobile accidents. Milk is practically an old wives tale and is like using mudpacks to stop bleeding wounds.
"People see the Complete First Aid kit as a great value and adds to the idea that it is a great gift. The Save-A-Tooth® alone costs $24.95 on the company's website so the first aid kit contents are virtually free," says Dr. Ed Abrams, Associate Professor at Temple University School of Dentistry. There are some competitive kits that advertise huge numbers of product parts but when examined closely, these components are cheap imports that are an inferior value.
If the Save-A-Tooth® is used within the first 60 minutes of a tooth being knocked out, over 90% of these teeth can be reimplanted and saved for life. Without the use of a Save-A-Tooth®, the success rate of these reimplanted knocked out teeth is about 10%. The $24.95 seems cheap when compared to the thousands of dollars it costs to replace only a single front tooth. In addition, a child of eight can't have a permanent replacement until he or she is eighteen. He or she will have to have a removable denture during this time.
Dr. Henry Rankow recommends that the Complete First Aid kit be kept at every home and in every car. "There are millions of teeth knocked out in automobile accidents every year, even by the air bag that saves the life but still can knock out teeth", he reports. "At this critical time, there is no time to look for a substitute storage medium. By having a Complete First Aid Kit with a Save-A-Tooth® in the car first aid kit, all other, more serious injuries can be taken care first, and the knocked out teeth can still be saved since the Save-A-Tooth® preserves knocked out teeth for twenty-four hours."
Dan Gregory at certified safety, one of the leading US first aid kit manufacturers says, "People shouldn't be fooled by kits that claim hundreds of parts in their kits. For example, the gauze in other kits besides the "Complete" kit consists of one quarter the density of the gauze found in the Complete First Aid kit." That means the competitive kit may have four times as many pieces of gauze but it takes four times the pieces to equal that found in the Complete First Aid kit.
So, those people looking for the perfect holiday gift, follow the recommendation of Amazon.com and check out the Complete First Aid kit.
# # #