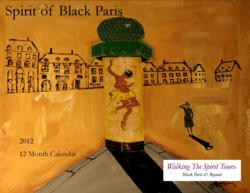 "This is a labor of love. We wanted to make it as creative, educational and diverse as the Black experience in Paris was," says Julia Browne, owner of Walking The Spirit Tours.
(PRWEB) December 15, 2011
The full color Spirit of Black Paris calendar provides a strikingly original daily journey to the Paris of African-Americans who found opportunity in France over the past 200 years. From Sally Hemings in 1787 to Richard Wright in the 1950s, expatriates and visitors are illustrated in their favorite places as well as among the familiar sites of the City of Lights.
For example, in September, stand outside the formidable Sorbonne University with Anna Julia Cooper while she prepares her doctorate in 1925. Perfect for sunny July, catch a glimpse of James Baldwin, Richard Wright and Chester Himes in Les Deux Magots café in St.Germain-des-Pres. And in the dreary month of March, admire the lesser-known but exhilarating works of women artists Lois Mailou Jones, Nancy Elizabeth Prophet and Meta Vaux Warrick.
More than an evocative and beautiful visual celebration, the calendar functions as a daily tool to improve knowledge of African-American history in Paris. It was created in the spirit of educating and inspiring adults, students and children. The rich contents invites previous visitors to relive the inspiring stories; the abundant details pique the curiosity of those dreaming of following the footsteps of a still existing dream of Paris; and for those preparing a trip, it stimulates a sense of belonging where expatriates have left their mark.
The artwork was commissioned to renowned artist Ealy Mays. Texas-born Mays has lived permanently in Paris since 1996 and he is uniquely positioned to provide heartfelt depth to the subject. Since 2008 he has also guided visitors and locals through the narrow streets and past famous sites for Walking The Spirit Tours, telling the stories of the African American expatriate experience.
"It was an honor," says Mays, "to be a part of the first of a kind calendar, and to put my input into such an endeavor".
Created by Julia Browne, founder of Walking The Spirit Tours Walking The Spirit Tours , this project is a rewarding extension of the passion that she holds for Black Paris. Browne founded the company in 1994 following her studies with the late Professor Michel Fabre at the Sorbonne. Fabre is the author of 'From Harlem to Paris: Black Writers in Paris 1840 to 1980'. Browne created the indepth series of walking and bus tours as a way to share her expertise on Paris, history, and Black culture. The fascinating tours provide appealing and new understanding for people of all cultures and backgrounds. Now a certified French Specialist, designated by Tourism France, Browne creates culture rich excursions to Richard Wright's Normandy, Josephine Baker's Dordogne and James Baldwin's Nice.
The 2012 African Americans In Paris calendar is the first of a series. It is available to order immediately.
# # #