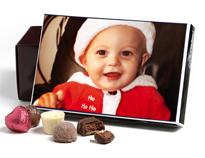 "Chocolate ..... the food people cant get enough of."
London (PRWEB UK) 15 December 2011
People from all over the world buy tons of chocolates throughout the year to use them as gifts. It is hard to find somebody that dislikes chocolate. Whether it is full of liquor or in its simplest form you cannot go wrong with a box of chocolates. Treating someone at Christmas to a Thorntons creation is always a good idea and will without a doubt be appreciated.
Several types of chocolate can be distinguished. Pure, unsweetened chocolate contains primarily cocoa solids and cocoa butter in varying proportions. Much of the chocolate consumed today is in the form of sweet chocolate, combining chocolate with sugar. In the UK, milk chocolate must contain a minimum of 20% total dry cocoa solids while in the rest of the European Union the minimum is 25%.
To celebrate Christmas, Thorntons' chocolatiers have created a wide range of seasonal products. Special hampers for Christmas are adapted to everyone's tastes and preferences. The Ultimate Christmas Hamper contains some of the most popular Thorntons products: milk chocolate of all types and shapes, Alphabet truffles (which can be personalised with your own message) and special toffee... the whole family will be pleased, especially those with a sweet tooth!
A great unique chocolate gift from Thorntons is a personalised chocolate box. You choose which picture you want printed on the front of the box and then you choose which chocolate selections you want to include in the box, tailoring the chocolate box completely to suit the recipient's tastes!
Chocolate is most frequently cited as the food people can't get enough of, so, giving chocolate at Christmas sends a warm message.
Wouldn't you prefer to give the people who matter to you a unique chocolate gift that they will remember and love? Whether you want to send special Christmas gifts, or are looking to surprise a food lover in your family, a wide selection of gourmet gift baskets, wine gift baskets, gourmet food gifts baskets, gourmet tea gift baskets, coffee gift baskets, milk chocolate gift baskets will leave everyone smiling.
Source: Thorntons http://www.thorntons.co.uk
###