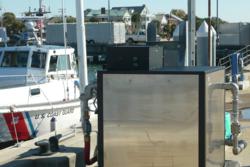 West Palm Beach, FL (PRWEB) December 16, 2011
Petroleum Marine Consultants, LLC. announces their major development for the USCG, Sector Charleston. Tito Construction of Woodbury, NJ accepted the challenging project after being awarded the highly sought after bid to completely revamp a fuel distribution system. For this assignment the company was required to perform a closure of the existing fuel facility as well as to develop a brand new fuel distribution system under specific USCG guidelines.
This incredible undertaking began as fuel was purged and piping was removed. A new 6000 gallon diesel Convault Ul-2085 storage tank was installed with Hurricane and Seismic restraints. All piping was installed per the USCG requirements. Pump Measure Control Model # CMD-701-MA-8M dispensers were installed on the main pier. High Speed Diesel fuel is dispensed through a Velcon Vel- Max Filter to ensure that all specifications were met.
Per the contract, a brand new electrical distribution system was installed for dispensing fuel. After the project was completed, the USCG Charleston Sector boasted a top notch and efficient fuel distribution system.
About Petroleum Marine Consultants: A leader in the marine petroleum industry, US Petroleum Marine Consultants, LLC is a full service marine fuel contractor which offers services for new marina fuel facilities. The company is a design and build firm located in the heart of West Palm Beach. They specialize in products and services for marina fuel systems. In addition, Petroleum Marine Consultants has been in charge of setting up over 100 marina fueling facilities estimated at over 64 million dollars. Petroleum Marine Consultants, LLC is a one of a kind operation, as they are the only contractor exclusively for Marina Fuel Systems.
###