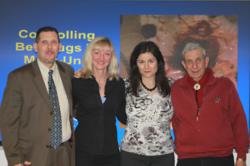 Altogether, the event was a huge success, as it has been in the past
New York, NY (PRWEB) December 15, 2011
Last month, Assured Environments held one of its most important events of the entire year: the 2011 Training Day. The annual event featured a roster of renowned presenters, including world-famous entomologist Dr. Austin Frishman. Frishman, who served as keynote speaker, is a highly regarded pioneer and authority within the pest control industry. He has used his extensive knowledge to help Fortune 500 companies, private businesses, government agencies, hospitals, food facilities and thousands of pest control companies worldwide improve their approach to pest management.
Frishman—who has been a consultant of Assured Environments since 1974—kicked off the training event with a presentation about the use of rodenticide and other controls and measures commonly used for integrated pest management. Later in the day, he also spoke on the topic "Mice in High Rise Buildings and Commercial Spaces."
Another noted Training Day speaker was entomologist Dr. Dini Miller. One of the foremost bed bug researchers in the world, Miller covered the topic "Controlling Bed Bugs in Multi-Unit Housing." Miller is an associate professor at Virginia Tech and the Urban Pest Management specialist for the state of Virginia. Over the past several years, she has completed extensive and exciting research on bed bugs with her husband, who is also an entomologist. "The two have discovered more precise details about the pest that has lately plagued homeowners across the United States, including understanding their mating rituals, feeding habits and necessities, life expectancy and dangers and effects on humans," explained Assured Environments' Director of Training Tim Hendricks.
Other key Training Day speakers included Dr. Cisse Spragins and Dave Ramsey, along with Assured Environments' own entomologists Jerry Quinlan and Tim Hendricks. Spragins, a distinguished research chemist, presented her findings on new products being used in the pest control industry. The products discussed, including the "Foamer Simpson" cleaning tool are produced and distributed by her company, Rockwell Labs Ltd. Dave Ramsey from the Copesan alliance of premier pest management companies spoke about communicating internally and externally with clients, giving the technicians more of an understanding on how great communication leads to unabated success. Quinlan discussed pests and diseases, while Hendricks presented on servicing supermarkets and other food related client locations.
Training Day was an important event for the company and its technicians, who received instruction that was vital to their profession. "Our technicians are required to take a certain number of training credits in order to recertify their license each year," Hendricks said. "At Assured Environments, we make this very easy for them by offering a day full of training which is certified by the DEC (the New York State Department of Environmental Conservation) and provides them with enough recertification credits each year."
In addition, the 2011 Training Day gave vendors and partners an opportunity to address the technicians directly, provide updates on the products they use in the field and answers questions about the products. This year's training was held in New York at the Digital Sandbox and was catered by Sale & Pepe. "Altogether, the event was a huge success, as it has been in the past," Hendricks said.
To learn more about Assured Environments, contact Evan Rosenblum directly at 646-783-5138, or visit http://www.AssuredEnvironments.com.
About Assured Environments
Assured Environments has been providing professional pest control management solutions to the New York Tri-State area for almost 80 years. The company provides a wide variety of solutions to commercial and residential customers. Assured Environments takes pride in its Green Shield Certified services and environmentally-friendly Integrated Pest Management (IPM) program, which uses methods that are the least disruptive to human health and the environment. An employee-owned firm, Assured Environments is based in Manhattan and serves clients throughout New York, New Jersey and Connecticut.
###