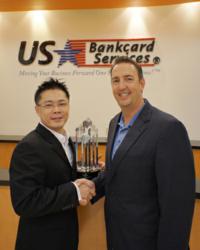 USBSI would like to express its gratitude for the continued trust and support of its merchants
City of Industry, CA (PRWEB) December 15, 2011
US Bankcard Services, Inc. (USBSI) triumphed yet again this November at the annual Elavon Awards Conference in Florida. USBSI was the only merchant services provider (MSP) to win all three awards given as well as the Arch Award.
USBSI was awarded first place in First Day Deposit (FDD) Top Volume for the West Coast Region at Elavon's conference in Florida. This means that USBSI placed first out of all Elavon MSPs on the West Coast in terms of transaction volume processed by new accounts. In addition, USBSI won second place nationwide as a Top FDD Producer in terms of the number of new accounts opened compared to all Elavon MSPs in the United States. To complete its dominance of the Elavon Awards, USBSI is also second place nationwide in terms of being a Top Producer in Portfolio Volume, which takes into consideration the aggregate transaction volume of overall accounts compared to all Elavon MSPs in the United States.
USBSI was the only MSP out of the two hundred in Elavon's nationwide network to win all three awards and have the distinction of being the first recipient of the Elavon Arch Award in 2010 and 2011, given to an MSP who has reached $1.5 billion dollars in transaction volume. No other MSP has received this award in the last two years. USBSI is especially proud to celebrate its tradition of success and excellence at the Elavon Awards as well as its other remarkable achievements of 2011.
Most of all, USBSI would like to express its gratitude for the continued trust and support of its merchants. USBSI's many accomplishments are possible because of the teamwork and relationship between USBSI and its merchants. USBSI's commitment to helping its merchants with twenty-four hour, yearlong technical support and multilingual customer service has led to the success of its merchants and of the company itself. Working together, USBSI and its merchants will make 2012 a year of unprecedented prosperity.
About US Bankcard Services, Inc.
US Bankcard Services, Inc. is a top rated MSP that offers competitive rates, incredible customer service support, and cutting edge technology in credit card processing service. USBSI offers a wide array of value-added services, including QuickDining.com (QD) restaurant e-commerce, gift card services, check guarantee, PCI –DSS compliance consultancy, 24-7 multilingual customer service and technical support. US Bankcard Services, Inc. is a registered MSP/ ISO of Elavon, Inc. Georgia
For more information about merchant bankcard services please visit us at usbsi.com or call us at: 1-888-525-8558.
# # #