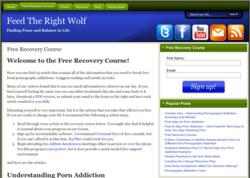 ... over 350,000 unique visitors read through the recovery material since the course went live ...
San Jose, CA (PRWEB) December 25, 2011
The pornography industry is pervasive in modern culture and can often be destructive - leading to addiction, neglect of loved ones, a withdrawal from life, mounting debt and more. In fact, at the turn of the last century, as familysafemedia.com reports, pornography accounted for 1.3 million websites and over 260 million pages; the porn industry's annual take averages over $13 billion here in the US and nearly $100 billion across the globe.
Pornography Is Ruining Relationships
Staggering enough in scope, pornography is also being blamed for countless failed marriages and relationships. A recent poll conducted by the American Academy of Matrimonial Lawyers found that two-thirds of divorce lawyers reported that the internet played a major role in the divorce cases they presided over and that more than half of those cases involve an infatuation or a supposed addition by one partner to online porn.
6-8% Of Americans Are Sex Addicts
According to the National Association of Sexual Addiction Problems, an estimated 6 to 8% of Americans are sex addicts; roughly 16 to 21.5 million people. However, a scant few reach out for help with their addiction because of the shame and social stigma that's associated with their affliction. Fortunately, a new website is offering free help for porn addicts - feedtherightwolf.org.
Free, Anonymous 30-Day Recovery Course For Porn & Sexual Addiction
Launched by a self-professed pornography addict Alex Wolf, Feed The Right Wolf is a non-profit website offering help for anyone needing to recover from a porn addiction or associated sex addiction. Created to help anyone better understand their sexuality and to develop better mechanisms by which to control urges and impulses, Feed The Right Wolf will train sexual addicts to spend less time engaging in compulsive sexual activities and more time pursuing their dreams and goals. The porn addiction and sex addiction recovery course also helps users learn to heal relationships that might have been damaged by their addictive behaviors and give them the tools they need to develop new and healthy relationships moving forward.
Growing in Popularity
Feed The Right Wolf's Free Recovery Course is growing in popularity since its launch in August of 2010. To date, over 1,100 anonymous help-seekers have signed up to have the free 30-day porn addiction recovery course sent to them via email. What's more, feedtherightwolf.org has seen over 350,000 unique visitors reading through the recovery material since the course went live.
"I created the free recovery course from my personal experience," said Wolf, "so I know exactly what our potential clients are going through. It's written in plain English, making it easy to understand and to follow. Plus, we offer it as pdf or via free email delivery, making it easier for anyone to stay on course for the full 30 days."
To learn more about Feed The Right Wolf and their Free Recovery Course for sexual and porn addiction, visit: http://www.feedtherightwolf.org/
###