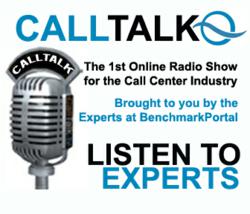 "We are extremely pleased by these outstanding results, as recognized by such respected groups as BenchmarkPortal and the Center for Customer-Driven Quality."
Ivan Szeftel, President, Retail Services for Alliance Data Systems
indianapolis, IN (PRWEB) December 14, 2011
About CallTalk
Broadcast monthly, directly over the Internet to your desktop, CallTalk covers informative and educational topics impacting the call center today. This show will be hosted by Bruce Belfiore, Senior Research Executive for the Center for Customer-Driven Quality (founded at Purdue University), and will be aired without the participation of vendors so that topics will be free from their influence and guided by the listeners.
Click to Listen to CallTalk Radio
Date: December 14th, 2011
Time: 1pm PT / 4pm ET
Duration: 45 Minutes
Special Offer: The first person to ask a live question (on the phone), will receive a $1500 Benchmarking Survey.
Live Questions: During the call we invite you to ask questions via email. Please email CallTalk(at)BenchmarkPortal(dot)com your questions or call in your questions at (347) 857-3117.
Archived Shows: If you missed this show or would like to view our archived shows, please click here: please follow this link.
Guest Host: Contact Center Experts from BenchmarkPortal
Dayne Petersen: CCDQ Certified Call Center Auditor, CCCE Lead Instructor, Senior Consultant
Dayne Petersen has over 20 years experience managing and operating both business-to-business and business-to-consumer call centers. Additionally, she has a successful track record evaluating and implementing call center solutions that meet defined client requirements. Read More »
John Chatterley: Research Director & Senior Specialist
John Chatterley is Director of Content & Analysis and Chief Editor at BenchmarkPortal, Inc. John has published numerous books, customized benchmarking reports, research reports, One-Minute Survey reports, and White Papers. Read More »
Dru Phelps: CCDQ Certified Call Center Auditor, CCCE Instructor, Author, Senior Consultant
Dru Phelps has over 20 years of experience in the customer service industry and has been a Senior Consultant with BenchmarkPortal for over a decade. She has worked in many industry sectors and co-authored the book How to Conduct a Call Center Performance Audit: A to Z. Read More »
Dee Buell: CCDQ Certified Call Center Auditor, Senior Consultant
Dee Buell has over 20 years of Call Center management experience. She has managed and operated inbound and outbound service teams, as well as inbound and outbound sales teams. Read More »
###