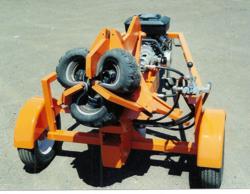 combination wheel crusher and tire cutter for the tire recycling industry
(PRWEB) December 15, 2011
With used tires becoming more of a problem for landfills due to the large volume of space they take up and hazards they create, more uses for recycled tires continues to rise. Gizmoplans.com now offers plans for its multi-use tire recycling equipment a combination rim crusher and tire cutter for the tire recycling industry. Gizmoplans has made it easier to recycle used wheels and tires with its unique 2 in 1 Wheel Crusher and Tire Cutting machine. The wheel crusher & tire cutter is not only able to crush wheels but also cut the tires in thirds considerably reducing the space they take up. Unlike other wheel crushers on the market that use three hydraulic cylinders, gizmoplans machine only uses one making it less expensive to build. With only one cylinder the wheel crusher is more compact and easy to transport from one job site to the next. The innovative design connects one hydraulic cylinder to three crushing arms, the further the cylinder is extended the greater the crushing force becomes, making it extremely powerful.
The tire recycling machine is designed in a way that once the rim is crushed it falls right out of the tire. Next a simple cutting attachment can be mounted on the unit giving it the ability to cut the tire in thirds with very little effort. Once the tires are separated from the rims and the cutting attachment in place it now becomes a tire cutter using the same powerful force to cut the tires into 3 pieces greatly reducing the overall volume of waste tires. Waste tires create a huge problem for landfills due to their volume and because rubber is very resilient. Conversely this resiliency lends itself to a excellent recyclable waste material now used in everything from outdoor furniture and turf to crumb rubber used for concrete fillers giving new life to what used to be a nuisance.
The Rim Crusher has a 20 second recycle time for crushing wheels making it one of the fastest wheel crusher on the market. With each rim weighing approximately 20 lbs in less than one hours time a operator can turn piles of tires and rims into valuable recyclable steel and re-usable rubber. The wheel crusher & tire cutter is also designed with portability in mind. Built with a 2" ball hitch it can easily be pulled around and towed from one job site to the next.
ABOUT US
Gizmoplans is an online informational website where businesses and individuals can download and build products from plans related to the recycling industry, precast concrete industry, wood crafts, metal fabrication, hobbies and much more. Businesses and individuals can also upload and sell their plans, patterns, how to e books and more benefiting both the purchaser and seller in the diy community.
# # #