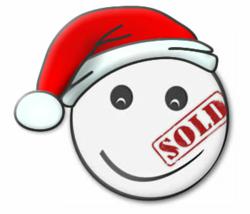 We're now putting all our energy into the Christmas day auction, and we hope that lots of companies will get involved and be generous with their bids.
London (PRWEB UK) 15 December 2011
BuyMyFace.com is the brainchild of Cambridge University graduates, Ross Harper and Ed Moyse, 22. Having graduated this summer into one of the most hostile job markets in decades, the two best friends decided to go against conventional practice and create their own dream-job. For 366 days, the boys are selling advertising space on their faces, and are being paid to go to fun and exciting places all in the name of paying off their university debts. Through their website, companies, groups and individuals can purchase days of advertising from a virtual calendar, and on these days, Ross and Ed will paint an image as requested onto their faces, then upload profile pictures onto the homepage of BuyMyFace.com.
Now with their project well underway, Ross and Ed are turning their attention to the Christmas season, and have set themselves the aim of raising as much money as possible for charity. On 14th December, an eBay auction will open to buy Ross and Ed's faces for Christmas day. The highest bidder will have their logo painted onto the boys' faces on Christmas, and all the proceeds will go to Alzheimer's Society.
"Christmas is a time when families and friends get together and may notice a difference in their loved ones so it's fantastic to raise further awareness of dementia. The condition is desperately underfunded so this will be a wonderful Christmas present to receive. Let the festive bidding commence!" (Alzheimer's Society)
In keeping with the rest of their project, the boys went about choosing a charity in a slightly unorthodox way. Rather than selecting one charitable organization, Ross and Ed short-listed seven, and opened this up to a vote on their website. For thirteen days, from the 1st – 13th December, visitors to BuyMyFace.com were able to cast a vote for their favourite charity, with the winner going on to receive all the profits for Christmas day.
"We have a personal connection with all the charities listed, and by opening up the decision to a vote, we felt that the whole process would be more inclusive." (Ross Harper)
"Alzheimer's Society is thrilled to win the Buy My Face charity poll. Thank you to all the people who voted for us" (Alzheimer's Society)
Among the seven charities chosen to feature on BuyMyFace.com were; Alzheimer's Society, Cancer Research UK, Breast Cancer Care, Julia's House, Meningitis Trust, Oxfam, and the British Heart Foundation. Ross and Ed feel confident their Christmas vote will have benefited each of their selected charities.
"While we decided to donate the proceeds from Christmas day to just one charity, featuring on the homepage of our website is valuable advertising for any organization. That was another reason in favour of holding a vote – we'd be raising brand awareness for all the charities involved." (Ed Moyse)
BuyMyFace.com receives thousands of visitors every day, and this figure looks to be increasing as word of the enterprising new venture spreads. With three months of advertising already sold, nine months remaining, and the price of each date increasing throughout the year, the boys are optimistic they will pay off their student debt in no time. In the meantime, however, the pair are focusing their efforts on raising as much money as possible for their chosen charity.
"We're now putting all our energy into the Christmas day auction, and we hope that lots of companies will get involved and be generous with their bids. We'd like nothing more than to donate a large sum of money to Alzheimer's Society this Christmas." (Ross Harper)
###