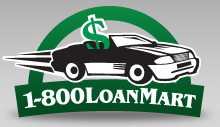 "1-800LoanMart fans, welcome to the Dodger Family! We are partners and we are humbled and honored to be part of this beautiful blue revival at Dodger Stadium! It's going to be an amazing season!" - Vic "The Brick" Jacobs
Los Angeles, California (PRWEB) December 16, 2011
1-800LoanMart will be partnering up next baseball season with Dodgers Radio AM 570 FOX Sports LA, the radio home of the Los Angeles Dodgers! This strategic partnership brings the title loan company to the baseball fans of Los Angeles and opens up a new source of exposure for 1-800LoanMart.
1-800LoanMart will be advertised throughout the entire Spring Training season, the 162 game regular season and hopefully a long playoff season for the Dodgers on their radio station Dodgers Radio AM 570 FOX Sports LA. With this partnership, Dodger Radio earns a reputable and established corporate sponsorship for the season and 1-800LoanMart earns a partnership with one of baseball's largest radio market's audience of fans!
Vick "The Brick" Jacobs, co-host of The Loose Cannons sports talk radio show on FOX Sports Radio AM 570, welcomes the opportunity to have 1-800LoanMart join as partners on the radio station. "1-800LoanMart fans, welcome to the Dodger Family! We are partners and we are humbled and honored to be part of this beautiful blue revival at Dodger Stadium! It's going to be an amazing season!"
Colby Estes of 1-800LoanMart is excited to be a part of the Dodger Radio Family as this will bring increased exposure to the 1-800LoanMart brand and perhaps bring in some additional customers for title loans in Los Angeles and the greater area! "The Dodger fans are some of the most passionate in all of baseball and we are excited to be a part of the radio home to one of baseball's largest radio audience. We hope this partnership helps in getting the name of 1-800LoanMart out to fans of the Dodgers and hopefully we can help fans who need help with their cash emergencies should the need ever arise."
Listen all next season starting in Spring Training in March and lasting deep into October for the playoff push for 1-800LoanMart on Dodgers Radio AM 570 FOX Sports LA!
1-800LoanMart is a lender of title loans in California, helping consumers get access to a loan based on the equity of their vehicle. Approved applicants will be able to get a loan dependent on their vehicle while still being able to drive. 1-800LoanMart has served the state of California with title loans for over 10 years, helping to fund thousands of people every year with cash for their car titles.
###