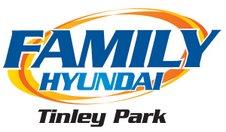 Tinley Park, IL (PRWEB) December 14, 2011
Family Hyundai has been plying their trade as the best auto dealer in Illinois for quite some time now, and they've been recognized as the number one dealer in Chicagoland for the past six years. Continuing with their tradition of excellence, Family Hyundai is holding an amazing sale for one day only this Saturday, December 17. Past customers of Family Hyundai know that they've got the largest inventory of new and used vehicles in the entire Midwest, which is just a small part of why they're the region's favorite dealer. Drivers from far and wide should know that when they come to Family Hyundai's one-day sale, there will be something on the lot to meet their needs within their desired budget.
This sale isn't just about Family Hyundai's excellent selection, nor is it about their typically fantastic prices, though they do guarantee that their prices are the lowest. During their one-day sale, their prices will be cut even further, offering discounts that are too low to advertise! Not only will 100 new Hyundai vehicles be sold under dealer invoice — every single Hyundai vehicle on the lot will be marked down. Family Hyundai is making it easier than ever before to get behind the wheel of a new Hyundai model for drivers all over the state of Illinois.
How big is Family Hyundai's selection of new vehicles? They will have over 300 new Hyundais discounted and available for purchase during Saturday's sale. They are also offering lower payments, and, perhaps most appealingly, no payments for ninety days for qualified buyers. This sale is not to be missed, so area drivers should come out to Family Hyundai's Tinley Park dealership on December 17 to find their next new car, truck, or SUV.
Great promotions like their one-day sale show Family Hyundai's enduring commitment to their customers by offering them great deals just in time for the holidays. Visit them in Tinley Park, Illinois this Saturday, December 17 for their one-day sale, and take advantage of deals that are even more amazing than usual at Family Hyundai. This is the best chance for area drivers to get the absolute lowest price on a brand new Hyundai vehicle.
###