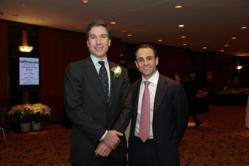 New York, NY (PRWEB) December 15, 2011
More than 1,150 financial professionals, prominent business leaders, and philanthropists honored Paul J. Taubman, executive vice president and co-president of Institutional Securities of Morgan Stanley, and Scott L. Shleifer, managing director of Tiger Global Management, at The Wall Street Dinner, held at the Hilton New York on Wednesday, December 14, 2011. UJA-Federation of New York's Wall Street & Financial Services Division raised $22 million making this one of the most significant charity events for UJA-Federation's annual campaign to strengthen a network of 100 agencies reaching more than four million people across 60 countries.
"For decades, the leaders of Wall Street have consistently set the standard for philanthropic responsibility," said John S. Ruskay, Executive Vice President and CEO of UJA-Federation of New York. "Once again, they did so last night. They came together, in the face of challenging economic winds, and demonstrated by their presence and their philanthropic support their commitment to all those who need support."
Paul J. Taubman received the Gustave L. Levy Award at the Wall Street Dinner charity event. Considered a pre-eminent honor in the industry, this award recognizes a leader in the Wall Street community for both exceptional professional achievement and an enduring commitment to UJA-Federation. Previous honorees of the Gustave L. Levy Award include Peter May, John A. Paulson, Gary D. Cohn, Richard A. Friedman, Daniel S. Och, Morris W. Offit, Michael Minikes, Leon M. Wagner, and Jeffrey B. Lane.
Scott L. Shleifer received the Young Leadership Award at the Wall Street Dinner charity event which recognizes a professional who demonstrates exemplary leadership, a steadfast commitment to the community, and continued generosity to UJA-Federation. Previous honorees of the Young Leadership Award include Michael Nierenberg, Marc S. Lipschultz, Jonathan M Harris, Larry Robbins, Scott S. Prince, Alexandra Lebenthal, and Ricky Sandler.
Susie Essman of the critically-acclaimed HBO comedy series, Curb Your Enthusiasm, whose streetwise vernacular is perfectly suited for her life in Manhattan where she has been a stand up comedian for twenty-five years, entertained guests as the emcee. The charity event also featured a keynote address from Dennis Ross, american diplomat and author who has served in the past three presidential administrations.
About UJA-Federation of New York
For more than 90 years, UJA-Federation has been a central force for communal planning and philanthropy in the New York Jewish community. Through UJA-Federation, more than 60,000 donors pool their resources to help people in need, inspire a passion for Jewish life and learning, and strengthen Jewish communities around the world — to address the issues that matter to us most as Jews and as New Yorkers. Working with more than 100 network beneficiary agencies, synagogues, and other Jewish organizations, our reach spans from New York to Israel to more than 60 other countries around the world, touching 4.5 million people each year. Because we do the most good when we do it together. For more information on how to donate, please visit our website.
# # #