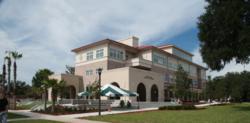 Saint Leo, Florida (PRWEB) December 15, 2011
With the fall semester coming to a close, Saint Leo University business students are wrapping up their first term in their new home—the new School of Business building. Since August 2011, students enrolled in the Catholic university's on-campus and online MBA programs have been reaping the benefits of a new facility that incorporates sustainable design and state-of-the-art teaching technologies.
Saint Leo University is currently in the final stages of pursuing LEED Gold certification for the facility. The internationally-recognized green building certification system administered by the U.S. Green Building Council (USGBC) rewards construction projects that integrate innovative building technologies and strategies aimed at saving energy and water, minimizing a building's impact on the land, and contributing to a healthy indoor environment. The School of Business facility features water-efficient systems, including irrigation with stored rainwater, and locally sourced, renewable materials—for instance, cast concrete was used in place of natural cut stone to save costs and conserve resources.
Saint Leo has equipped the School of Business building with technological tools that support its mission of providing a collaborative education for both on-campus and online learners. Classrooms, seminar rooms and a large lecture hall include video conferencing technology and two to four SMART Boards per room. The interactive SMART Boards feature high-definition touch screens connected to the Internet, cameras, student laptops and one another. The building also contains a full, soundproof broadcast studio, computer labs, faculty and administrative offices, and open study spaces for students with modular, reconfigurable furniture to encourage small study groups.
Two Florida firms—Lunz Prebor Fowler Architects and Creative Contractors—completed the sustainable design and construction of the 47,921-square-foot building, which unites a traditional Spanish Mission facade with a chic, technology-enhanced interior.
Lunz Prebor Fowler Architects, headquartered in Lakeland, Fla., designed the building, procured furniture and A/V, and provided construction administration. The firm, which received the 2011 American Institute of Architects (AIA) Tampa Bay Firm of the Year Award, has completed a number of other education projects in Florida, including the Warner University Academic Building, the Florida Atlantic University Teaching Gym, and the Central Florida Speech and Hearing Center.
Creative Contractors managed the construction process and provided contracting services. The Clearwater, Fla.-based commercial construction company, founded in 1974, has been recognized as a leading green builder in the Southeast.
The sustainable building stands as a testament to Saint Leo University's core values of excellence, community, personal development, respect, integrity and responsible stewardship. Saint Leo University encourages students, whether pursing an on-campus or online degree in business administration, to be morally responsible leaders and good stewards of resources for the global community.
Donald R. Tapia, an alumnus who received an online degree in business administration and an online MBA degree from Saint Leo University, made a pledge of $4 million toward the total $12 million cost of the project. The university's trustees formally named the school for Mr. Tapia in honor of his gift. Mr. Tapia also serves as chair of the university's Board of Trustees.
About Saint Leo University
Saint Leo ranks as one of the top universities in the South, according to U.S. News & World Report's "America's Best Colleges" list. Saint Leo's traditional liberal arts campus, located 30 miles north of Tampa, educates more than 1,900 students. Total enrollment across its campus, regional education centers, and online programs exceeds 15,000. Among the top-ranked Catholic universities in Florida, Saint Leo is one of the nation's 10 leading providers of higher education to the U.S. military, and is a nationally recognized leader in online education.
Saint Leo University offers online MBA programs in accounting, health care management, human resource management, information security management, marketing, and sport business. To learn more about Saint Leo University's online MBA programs, visit http://online.saintleo.edu/academics/masters-programs/online-mba-programs.aspx.
###