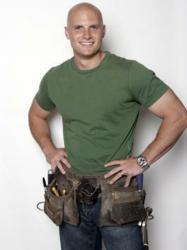 He offers a refreshing approach to design with creative, high-level construction, engineering and fabrication expertise
Atlanta, Ga. (PRWEB) December 15, 2011
Belgard® Hardscapes today announced that expert craftsman and television personality Chip Wade will be the national spokesperson for Belgard Hardscapes and its range of innovative outdoor paver and wall products.
Best known as the contractor on HGTV's Curb Appeal: The Block, Wade brings professional know-how and creativity to outdoor projects. In his new role, he will help Belgard in its mission to educate and inspire homeowners on how hardscapes can be used to create unique and lasting outdoor living areas and entrances.
"Chip has become a knowledgeable and trusted source to the home and garden world, and he will be a valuable partner for Belgard as we seek to help homeowners create beautiful outdoor living spaces and home landscape designs," said Ken O'Neill, vice president of Belgard Hardscapes. "He offers a refreshing approach to design with creative, high-level construction, engineering and fabrication expertise that resonates well with people who want to create landscapes that add value to their lives as well as their homes."
As national spokesperson for Belgard Hardscapes, Wade will appear at special events, in advertisements and marketing collateral. He will also help homeowners with their outdoor living and home improvement questions through a regular "Chip's Tips" column on the Belgard Hardscapes blog at http://www.belgardhardscapes.wordpress.com.
"Belgard's innovation and standard for quality pairs perfectly with my understanding of design and construction," Wade said. "Belgard Hardscapes has always been my go-to brand when selecting pavers for projects small and large, and I'm excited to work with them in partnership to help homeowners make beautiful backyards and create eye-catching curb appeal."
An Atlanta native, Wade has building in his blood. He comes from a long line of experienced carpenters and woodcraftsmen, working with his father at an early age, and over the years developing an interest in carpentry, landscaping and renovation. A graduate of Georgia Institute of Technology with a degree in mechanical engineering, Wade was a structural engineer in a home building firm where he became certified in residential construction. He made his television debut in 2007.
About Belgard Hardscapes
Since 1995, Oldcastle® has set the standard for innovative outdoor hardscapes with the Belgard® collection of paver and wall products. Offering a versatile range of styles - in antiqued, classic, and natural textures - premium Belgard products are found in America's finest homes and dream homes. When quality matters - Choose Belgard. 1-877-Belgard (235-4273). For additional information and product offerings from Belgard Hardscapes by Oldcastle, visit http://www.belgard.biz.
# # #