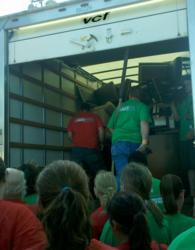 COLUMBUS, OH (PRWEB) December 16, 2011
Value City Furniture is going extreme – Extreme Makeover, that is! When the popular ABC reality show "Extreme Makeover: Home Edition" brought its larger-than-life makeover to the Rhodes family of Columbus, OH, Value City saw an opportunity to give back to its local community during the holiday season. Value City Furniture, headquartered in Columbus, donated all of the furniture that went into the brand-new house built for the family. The show airs on ABC, Friday, December 16 at 8/7c and Value City Furniture is celebrating with exclusive giveaways and an interactive social media celebration!
Facebook fans and Twitter followers of Value City will gain access to behind-the-scenes photos and contests centered around the December 16th airing. Fans and viewers won't want to miss a night of trivia questions and gift card giveaways taking place on Facebook during the show's airing on December 16. Twitter followers will be invited to tweet live with Value City to learn about the furniture featured on Friday's episode. Simply "like" Value City Furniture on Facebook and follow @valuecityfurn on Twitter to join in this exciting event inspired by a well-deserving family.
ABOUT VALUE CITY FURNITURE
American Signature, Inc. owns and operates Value City Furniture, American Signature Furniture and the American Signature manufacture brand. Ranked as one of the largest furniture retailers in the country, the retail stores are supported by a total of five distribution centers catering to 128 store locations spanning 19 states throughout the Eastern United States. American Signature Inc. headquarters are located in Columbus, Ohio.
###