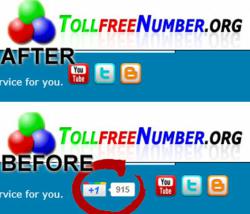 We believe at this time that Google+ is not going to benefit our business model.
Irvine, CA (PRWEB) December 16, 2011
The new social networking tool recently launched by Google, called Google Plus has received it's fair share of criticism and praise in the days following its release. But one telephone company which was known as an early adopter of Google Plus has ditched the Google Plus tool entirely citing their search engine rankings with Google virtually disappeared.
Tollfreenumber.ORG was one of the first companies to start using Google Plus, they activated their account, added the google+ code to their website and watched as Google users began clicking the PlusONE button. After just a couple months, TollfreeNumber.ORG had a great deal of popularity in the Google+ community. But things took a turn for the worst when Tollfreenumber.ORG found that their rankings in the Google Search Engine dropped dramatically.
Doing a Google search for anything related to "toll free numbers" or "800 Numbers" will usually bring up TollfreeNumber.ORG as one of the top ten results. After all, this company has been in business online for over 12 years and has an excellent reputation. They specialize in getting 1--800 phone numbers for business or personal use. Logan Marshall, The company's founder said "Google drives a lot of online traffic to our website."
In the months after adding the Google+ code to the TollfreeNumber.ORG website, google users were no longer able to bring up the same search results when they search for "Toll Free" related search terms. After careful analysis the TollfreeNumber.ORG support team found a link between the drop in the search results and the Google+ code on their website. They quickly ushered the information to their programming team, which deleted the Google+ code and re uploaded the website.
Julia Styles, a spokesperson for the company released a statement within weeks of the website change stating "Our [Tollfreenumber.ORG] search engine rankings have returned to normal after removal of the Google+ code." she later added "We believe at this time that Google+ is not going to benefit our business model, but we will continue to use tools such as our YouTube channel and our Twitter account."
Some SEO experts have speculated about the effects of Google+ on search engine rankings. With Google+ being so new, it is hard to tell the long term impact of being a member of the Google+ community.
TollfreeNumber.ORG is a world-class provider of toll-free telephone services. They offer products such as a personal 800 number that rings to your cell phone, or advanced virtual office packages starting at $9.95 per month.
http://www.twitter.com/_800
http://www.youtube.com/TollfreenumberORG
http://www.Tollfreenumber.org
Toll-Free: 1-800-951-9411
###