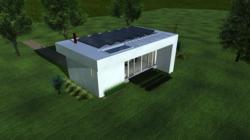 Eliminating slums, one roof at a time.
(PRWEB UK) 17 December 2011
The Nano house to solve India's slum housing.
The famous Nano House by Nano Living System is now available in India. NLS is responsible for creating the world's cheapest, smallest, and most sustainable house in the world. This house, which has been advertised by many companies in India, is now available for purchase by Nano Living System. The house is based on a light gauge steel design and it measures 32 square meters. The house shell can be built within three days and has an extensive lifestyle that exceeds traditional building methods. It is also highly resistant to weather conditions and natural disasters.
The design has been tested successfully in the UK, which has some of the strictest building codes in the world. The house is available to private buyers and also to governments, with mass residential plans for India's millions of poor and homeless.
The house is set not only to solve the world's housing problems, but to bring down Co2 emissions worldwide. Nano uses passive solar energy, which is completely free, non-polluting, and renewable.
We are all aware that the problem of inadequate or non-existent housing has reached crisis proportions globally. Though improving housing conditions around the world is a complex issue, Nano has come up with a solution that is economically viable, sustainable, and attainable. The Nano house can be ordered and build almost overnight, thereby making it perfect to use after a catastrophe.
The houses will be made in pre-fabricated, or 'prefab," format, under which Nano Living System will provide a kit consisting of roofs, doors, windows,etc, which can be erected or assembled.
One of the objectives of the Nano house is to provide affordable shelter to poor populations around the world, therefore, currently focusing on India.
For more information visit http://www.nanolivingsystem.com
Info(at)nanolivingsystem(dot)com
# # #