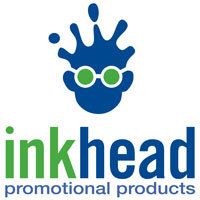 With a new Business Development department and an expanded Marketing team, InkHead looks to have a watershed year in 2012.
Atlanta, GA (PRWEB) December 16, 2011
InkHead.com, online distributor of promotional products and custom apparel, is looking forward to a monumental year in 2012 by expanding its Business Development and Marketing departments with the recent hiring of business development specialist Felipe Gonzalez and marketing manager Felicia Haynes.
Mr. Gonzalez, who had been a small business and personal banker at Wells Fargo, will be devoted to expanding InkHead's book of business as the company's Business Development Specialist. InkHead, which has primarily employed an inbound selling model, will now have a department dedicated to seeking out new business partners and customers. Ms. Haynes joins the promotional products company from OnPoint Underwriting, where she was Marketing Manager. As Marketing Manager for InkHead, she will create customer engagement and increase retention through expanding and refining InkHead's marketing efforts, both online and offline.
"We're very excited that Felipe and Felicia have joined InkHead," explained Vice President of Sales and Marketing Jim Franklyn. "With a new Business Development department and an expanded Marketing team, InkHead looks to have a watershed year in 2012."
Before coming to InkHead, Mr. Gonzalez worked with individuals and small businesses as a personal banker at Wells Fargo, where he managed portfolios and relationships for over 100 customers. Further, Mr. Gonzalez was a top-five banker, achieving the requisite number of sales and customer satisfaction scores. Mr. Gonzalez has a Bachelor's degree in Business Marketing from Southern Catholic College and a Marketing Research certification from the University of Georgia.
Ms. Haynes came to InkHead from OnPoint Underwriting where she worked as a Marketing Manager. Her results-oriented, multichannel, and creative approach to demand generation activities allowed her to meet aggressive revenue goals head-on while still staying flexible with changing priorities. Ms. Haynes graduated from the University of South Carolina at Columbia with a BS in Marketing and Entrepreneurial Management.
ABOUT INKHEAD PROMOTIONAL PRODUCTS
Founded in 2003, Atlanta-based InkHead Promotional Products is a leading distributor of custom promotional products and advertising specialties, offering a diverse selection of customizable items ranging from personalized pens to custom tote bags.
InkHead.com's diverse customer base ranges from Fortune 500 firms to single-owner businesses and private-event organizers. The company frequently assists government agencies, churches and religious groups, non-profits and charities, the military, educational institutions and other citizen organizations.
###