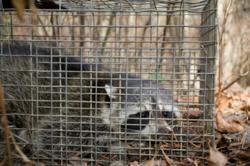 "GPS monitoring of our traps has allowed us to do our job more efficiently and with better results. We can now electronically observe every trap we set." Drew Cowley, Little Rascals Nuisance and Wildlife Service
Neptune City, New Jersey (PRWEB) December 15, 2011
The trapping of wildlife has been around since the dawn of man. And over the millenia not much has changed. Trappers had to make their daily rounds to inspect the traps that they had set. Delays in inspection often meant needless suffering for the trapped animal. Cowleys Nuisance Wildlife Removal Services recently began using a new application of GPS technology, called Trapsmart, which offers real-time notification of trapped animals through a combination of sensors and GPS technology. It removes the guesswork and get the animals removed from the cages and relocated as quickly and as humanely as possible.
With Trapsmart, cage sensors trigger an email or text within minutes of the trap door closing. The wildlife technician, who may be miles away, knows that the cage has a new tenant -- a squirrel, raccoon, opossum, or some other wildlife. These instantaneous alerts minimize the amount of time that an animal spends in the cage. And that translates into less chance of injury and a more humane removal process.
Said Drew Cowley, "Those in the nuisance wildlife business don't get to see that many advances in new technologies. Traps are traps and the capturing of wildlife isn't on anyone's list of high-tech enterprises. However, the Trapsmart GPS technology is a welcome exception. It has allowed us to do our job more efficiently and with better results. The objective of any good wildlife tech is to capture and relocate the animal as humanely as possible. And with these devices, we are able to electronically observe every trap we set. The sooner these animals are relocated, the better it is for animals and for the homeowner. There is less opportunity for the animal to hurt itself and the onus is taken off the homeowner to keep an eye on the cages between technician visits. Quick removal and relocation benefits everyone."
Continued Cowley, "No animal should needlessly suffer. Certainly, no homeowner wants to hear the desperate sounds of a struggling animal. Our expedited response rates from this GPS notification system have enabled us to do our job more efficiently and more effectively. It's a great example of how a new technology can be creatively applied to improve even an endeavor such as animal trapping that has been around since time immemorial."
In 1991, Cowleys Termite & Pest Control Services was founded by Drew Cowley. For 20 years, Cowleys has continued to expand, helping businesses and homeowners resolve a full range of pest infestations. Cowleys offers bird control services through Cowleys Bird Solutions and wildlife removal through Little Rascals Nuisance & Wildlife Services. For more information, visit http://www.littlerascalsbycowleys.com or call 866-9-COWLEY.
###