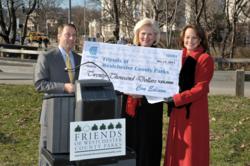 Westchester County, NY (PRWEB) December 15, 2011
Since 1974, Westchester County residents have been enjoying the popular Bicycle Sundays program that opens a 6.5-mile stretch of the historic Bronx River Parkway to bicyclists and other non-motorized uses on a series of Sundays each year. Public funding for the program was eliminated from the Westchester County budget adopted last week by the Board of Legislators, leaving the future of the program in doubt.
However, fans of Bicycle Sundays can breathe a sigh of relief, as Friends of Westchester County Parks announced it has teamed up with Con Edison in a public/private partnership to save the program. A donation of $20,000 by Con Edison will be matched with $20,000 from Friends of Westchester County Parks to pay for Westchester County's most popular parks program.
County Executive Robert P. Astorino was on hand for the announcement, which was made overlooking the Bronx River Parkway outside the Westchester County Center. "I want to thank Friends of Parks and Con Edison for their partnership in developing a new financial model that will save taxpayer dollars and allow us to roll Bicycle Sundays, a Westchester tradition for three decades, into the future," said Astorino.
He was joined by Friends of Westchester County Parks Board of Trustees Chairman Liz Bracken-Thompson; Con Edison Director of Westchester Public Affairs Sandy Miller; Friends of Westchester County Parks Executive Director Joseph Stout; members of the Friends of Westchester County Parks board; and Westchester County Parks Commissioner Kathleen O'Connor.
"This is a great example of how private sector businesses can work with government to continue important programs, even with the budgetary constraints we're facing," said Bracken-Thompson. "Bicycle Sundays are extremely popular. Recognizing this, Friends of Parks made a commitment to save the program. We reached out to the corporate community, and we are extremely pleased that Con Edison joined us as our partner."
Bicycle Sundays annually attract 60,000 participants on weekend dates in May, June and September except Memorial Day and Labor Day weekends. The event runs through six municipalities: White Plains, Hartsdale/Greenburgh, Scarsdale, Eastchester, Tuckahoe and Yonkers.
Con Edison's Miller, who is a member of the Friends of Westchester County Parks Board of Trustees, said quality-of-life issues are very important to the company. "We have a long-standing tradition of committing to programs that affect the social vitality of the people in our service areas. Bicycle Sundays do just that – provide healthy fun for young and old from across the county."
Friends of Westchester County Parks is the only organization dedicated exclusively to promoting and supporting Westchester County parks. Friends of Westchester County Parks, which is governed by a Board of Trustees, secures and administers private funds that support the mission of the Westchester County Department of Parks, Recreation and Conservation. Funds raised through membership fees and donations are used for the sole benefit of Westchester's parks. All donations are tax deductible.
For more information, visit Friends of Westchester County Parks at friendsofwestchesterparks.com
# # #