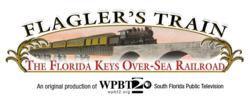 "WPBT2 produced the documentary to commemorate the 100th Anniversary of Henry Morrison Flagler's arrival aboard the first passenger train to Key West on January 22, 1912..." - Mark Baker, producer of Flagler's Train: The Florida Keys Over-sea Railroad
Miami, FL (PRWEB) December 16, 2011
A Century ago, the United States was leading the way into the industrial revolution. Great inventions, innovations and landmarks such as Titanic and the Panama Canal stood as monuments to the human spirit. In Florida one individual had his sights set on a different engineering marvel. His target: Key West. "Flagler's Train: The Florida Keys Over-Sea Railroad" premiering Thursday, January 12 at 8:00 p.m., exclusively on WPBT2.
Flagler's Train is a one hour documentary, produced by WPBT2, which chronicles the imagination and achievements of Henry Morrison Flagler, who spearheaded the development of the overseas railway connecting Key West to the existing Florida East Coast Railway.
The program features archival photographs, personal correspondence, original drawings of the Over-Sea Railroad project and newspaper articles of the day, tracing daily reports of the human struggles and technological achievements needed to complete the Florida East Coast Railway.
"WPBT produced the documentary to commemorate the 100th Anniversary of Henry Morrison Flagler's arrival aboard the first passenger train to Key West on January 22, 1912. The much celebrated event marked the official opening of the Florida East Coast Railway's Key West Extension connecting Key West to the mainland," said Mark Baker, producer of "Flagler's Train: The Florida Keys Over-Sea Railroad."
Much like Titanic, nature had the final say over the project and the remains of this great experiment still stand as a reminder of this feat of engineering and ingenuity a century later.
Flagler's Train was produced in partnership with the Monroe County Tourism Development Council, and Flagler Real Estate Services.
About WPBT2
South Florida's premier public broadcaster, WPBT2, is a community-licensed, not-for-profit media enterprise serving communities from the Treasure Coast to the Florida Keys. WPBT2 provides high quality content from PBS, independent acquisitions and its own original productions. WPBT2's digital media platform, offers: 2HD, a 24-hour high definition channel; Digital 2.2, a mix of Science & Nature Channel, The Florida Channel and Create; Digital 2.3, V-me, a 24-hour national Spanish-language network; and http://www.wpbt2.org, the WPBT2 website including, Impromp2 (a community blog), the WPBT2 Video Player and uVu, a video sharing website.
###