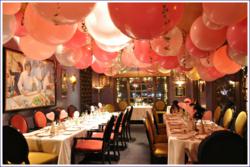 Few places are as beautiful, or as fun, to to bring in 2012 than California's Gateway to Yosemite.
Madera, CA (PRWEB) December 14, 2011
According to the Yosemite Sierra Visitors Bureau, many of the best venues throughout Madera County: California's Gateway to Yosemite, are making preparations to ring in the New Year.
"We have numerous options throughout the area," said Jarrod Lyman, director of PR for the Yosemite Sierra Visitors Bureau.
"Few places are as beautiful, or as fun, to bring in 2012 than California's Gateway to Yosemite."
Bass Lake
"Bass Lake is a beautiful vacation spot year round, but this New Year's they have numerous options to celebrate the start of 2012," said Lyman.
For adults looking to ring in the New Year, the Pines Bar at Bass Lake is hosting a party featuring live entertainment by Stone River. There will be balloon drop, party favors, food and more for only $15 per person. To learn more, call 559-642-3131.
Ducey's Bar and Grill, located at The Pines Resort in Bass Lake, is hosting a family-friendly New Year's celebration. There will be two family dinner-shows, featuring magic from Winston the Magician, a Fresno area favorite known for his skill and entertainment value.
Dinner will include choices of prime rib with pan jus, orange-ginger glazed salmon, chicken with mushroom ragout or Mediterranean pasta for adults, or a kids pasta buffet for kids under 12. Dinner includes the magic show, party favors and sparkling cider. The first seating is at 5 pm and the second at 8 pm. Call 559-642-3131 for reservations or more information.
On the fine dining side, Ducey's on the Lake has a special four-course dinner planned from 4 until 9 pm on New Year's Eve. Choose from starters like beet and goat cheese tartlet or Ducey's sushi roll or jumbo shrimp cocktail, and winter salad or butternut squash soup for the second course. Main course options include prime rib, steak and lobster with Ficklin Port Au Jus, or a pan seared Ahi, among others. Desert will feature a chocolate flourless torte or raspberry crème charlotte. Dinner is $72 per person. For reservations, call 559-642-3131.
Fish Camp
The Tenaya Lodge, located just outside of the south entrance to Yosemite National Park, is pulling out all the stops this New Year's Eve.
"If the ski slopes of Badger Pass and Four-Diamond Luxury weren't enough of a reason to come play this winter, we're pulling out all the Corks for our New Year's Eve Bash," said Kathrin Poetter with the Tenaya Lodge.
Tenaya's California New Year's Party includes a reception, gourmet dinner, live entertainment and party favors, as well as a champagne toast and balloon drop at midnight. Theme this year is "It's a Jungle Out There".
Kids aged 4-12 have an opportunity to celebrate the New Year as well. Children will enjoy a night full of adventure and excitement as they explore the wild jungle. The New Year's fun includes entertainment, a kid's favorites dinner, activities, party favors & crafts.
To learn more, visit http://www.tenayalodge.com/Holiday-Events.aspx.
Oakhurst
World renowned Erna's Elderberry House, central California's only 5-star dining establishment, has a festive evening planned with their usual eye towards sumptuous food matched with their European hospitality.
"Chef Gunnar Thompson has created a six-course menu that is exemplary of his skill and the restaurant's ability to create amazing meals," said Lyman.
There are two seatings, the first begins at 5 pm for those with parties to attend after. The second is from 9 pm until midnight, where there will be a live soft jazz trio and many surprises.
The menu includes a shrimp bisque, Ballotine of San Joaquin Valley Guinea Hen, roasted filet of Kobe beef and white chocolate bombe.
A full menu is available at http://www.chateausureau.com/events_news_year_2011.html. The first seating is $110, and the second $200.
The Evergreen Conference Center, Oakhurst, known as ECCO, is hosting a New Year's Eve event as well. Welcome in the New Year with an evening of good food, music, dancing, games, and the comfort of knowing you don't have to drive home. Enjoy a fun-filled evening, including overnight lodging and a farewell brunch in the morning. The event begins with a 6:30 with social hour followed by a Prime Rib dinner at 7:30. A New York Midnight Toast will be held at 9 pm. The event costs are $154 per couple (double occupancy) and $99.(single occupancy).
On New Year's Day Holy Eucharist will be celebrated with Bishop Eric Menees at 9 am followed by a Brunch at 10 am. For those wishing to come only for the Brunch, the cost is $10 per person with advanced reservation or $12 at the door.
All reservations can be made by calling ECCO at 559-683-8162 or online at www://ECCOyosemite.org.
Yosemite Lakes Park
The popular Blue Heron Restaurant is ringing in the New Year seafood style. Chef Christian Mueller will have a delicious menu featuring their Lobster Special for $23.95 from 5 to 9 pm New Year's Eve.
The Blue Heron Lounge will help you celebrate the coming New Year with live music from the Brad Wilson Band from 9 pm to 1 am. They will be serving bar food until 11 pm, all with free admission.
To learn more, visit http://www.TheBlueHerononline.com, or call 559-658-7466 x 104.
Madera
If you're looking for a nice play to spend the weekend, or just a quick getaway to welcome 2012, the Hampton Inn and Suites in Madera has a special that will help you keep your New Year's Resolution to save money.
"We have a New Year Special from Dec. 30 to Jan 2 where you can stay in a Jacuzzi Suite, with champagne, chocolate covered strawberries and a special touch of rose petals on the bed for only $125 a night," said Deanna Alexander with the hotel.
To reserve your room, call 559-661-0910.
Jarrod Lyman
Director of Media
Yosemite Sierra Visitors Bureau
(559) 683-4636
###