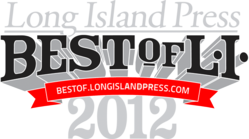 Incredibooths nominated Best Long Island Photo Booth
Commack, NY (PRWEB) December 15, 2011
Incredibooths has been nominated as the Best Long Island Wedding Photo Booth! If the coveted title is won, Incredibooths will hold the title for all of 2012. Long Island Press is one of the nation's largest weekly newspapers servicing Long Island's 3 million people every week since 2003. The award winning newspaper is known for its "BEST OF" Awards which feature only the best of the best in the long island business community. Incredibooths is honored to have been nominated!
Incredibooths serves all of Long Island with the most high-tech and innovative photo booths available. "What we really have looked to do with our photo booths is hold on to the nostalgia and magic of a classic photo booth experience while updating it with the best technology available", says Dennis Sea of Incredibooths. " And as you can see we also take great pride in how the booths look, their appeal. We simply don't offer pipe and drape type home made photo booths, nor do we rent commercially available metal box booths like you would see at an arcade, neither in our opinion is the best choice for an elegant wedding affair. Our Capture Cube and Capture Curve both feature a sleek refined design with our now famous all white exteriors. At a wedding the photo booth looks great, takes great pics and is a great time for all the guests."
Some of the equipment features of the Incredibooths Capture Cube Photo Booth Rental Long Island include:
Huge Color Touchscreen
High-Definition External Display
Professional Canon DSLR Camera
LED Intelligent Lighting with Control
Professional Super Fast 7 Second Printer
Some of the software features of the Incredibooths Capture Cube include:
Facebook & Email Upload
Instant Bonus 4 x 6 Enlargements of a favorite photo
Extra Prints On Demand
Video Messages
Custom Screens & Custom Graphics both on the screens and printed photos
Slideshow of photos taken inside the booth
Incredibooths also rents it's Capture Curve design which boast many of the same features packaged up in a revolutionary new photo booth design concept. "Either booth you really can't go wrong with, you'll be getting a top of the line photo booth, nothing else on the market compares" says Dennis of Incredibooths. And some party planners agree. NYC Party Planner to the stars Javier Toriz says "Dennis has done remarkable things with his photo booths. He's really brought new life into a dead field of the plain and uninspired.... clients for a while were steering clear of photo booths thinking they didn't want a cheesy looking hunk of arcade metal sitting in a lavish ballroom, but now, once I show them Dennis' designs its an instant Yes! People have always loved the photo booth concept, now in this new packaging its just a big YES!"
Incredibooths offers Photo Booth Long Island rental services throughout the tri-state area. If interested in renting a photo booth from Incredibooths for a wedding, corporate event, marketing tour, bar/bat mitzvah, sweet 16 or other event, they may be contacted directly via email or phone.
###