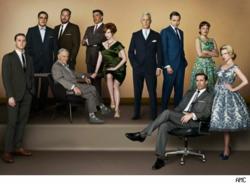 Los Angeles, CA (PRWEB) December 15, 2011
Mad Men, the critically acclaimed drama set at an ad agency in the 1960s, is as beloved for its writing and acting as it is for its costume design. The show's costume designer, Janie Bryant, is an Emmy Award winner who has helped to usher in a renewed interest in vintage fashion. Deborah Goldstein, a Film & TV Costume Design Student at FIDM/Fashion Institute of Design & Merchandising in Los Angeles, is a current wardrobe intern on the hit show.
She works under Bryant and says, "The best part of my internship is getting to see the behind the scenes of how each episode is envisioned and created by the whole costume department." Deborah, who will graduate in June of 2012, adds, "Mad Men was one of my favorite shows and when I got this internship I was so excited to have the opportunity to work with such a talented costume designer and on such an influential show."
Deborah started the exciting internship in October, and also works with FIDM Alumna Phoenix Mellow, who is the wardrobe production assistant for Mad Men. Deborah has also interned at companies such as House of Harlow, founded by Nicole Richie, and has worked as a costume designer for costume houses such as Frontline Design Inc. Prior to entering the Film & TV Costume Design A.A. Degree Program, Deborah received an A.A. Degree from FIDM in Fashion Design.
Internships are an integral part of an education at FIDM. The dedicated Career Center staff works one-on-one with students and alumni to find the best opportunities. The Career Center posts over 19,000 new jobs each year and over 90% of the college's graduates find employment in their field within 6 months of graduating.
FIDM/Fashion Institute of Design & Merchandising is a co-educational, specialized, private college dedicated to educating students for the Fashion, Graphics, Interior Design, and Entertainment industries. Known as a one of the top fashion merchandising schools, FIDM is also a leading graphic design school and digital media college. Visit fidm.edu for more information.
###