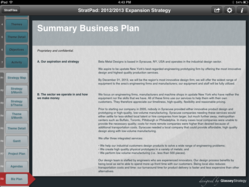 StratPad lets company owners quickly create a summary business plan on their iPad that's perfect for sharing with bankers, investors and potential partners.
Victoria, Canada (PRWEB UK) 15 December 2011
GlasseyStrategy announced today that StratPad Plus, the second of its iPad products, is now available in the App Store. StratPad Plus helps owners and managers of small businesses create a high-quality summary business plan quickly and easily with a unique step-by-step approach.
"Small businesses need an easy and compelling way to tell their stories to bankers, investors and potential partners. A two- or three-page business plan is often all that's needed. But many small business owners either don't have the time to do it themselves or can't afford high-priced consultants," said Alex Glassey, managing partner of GlasseyStrategy. "With StratPad Plus, they can do it themselves quickly, easily and inexpensively."
The StratPad series of iPad apps was launched on December 1 and has met with world-wide success selling in 16 countries and receiving glowing ratings and reviews.
StratPad teaches users about business strategy and planning and then helps them create their own strategy with a step-by-step template. Users can share their strategy with nine high-quality reports including a summary business plan. Other reports include a Project Plan, a Gantt chart, and a detailed Agenda. Reports are prepared instantly and can be viewed on screen, printed wirelessly or emailed as high-resolution PDFs.
New StratPad users will also learn from the three professionally developed sample business plans that come with the product.
Device Requirements

Exclusive to the iPad
Requires iOS 4.0 or later
3.2 MB
Pricing and Availability

US$9.99 (or equivalent)
Available worldwide on Dec 15, 2011 exclusively through the App Store
About GlasseyStrategy
Based in Victoria, Canada, GlasseyStrategy is a business strategy advisory firm started by Alex Glassey in 2002. GlasseyStrategy works closely with the senior management of ambitious companies to help them get to the next level. The StratPad series of iPad apps offers its world-class strategic thinking to businesses everywhere.
###