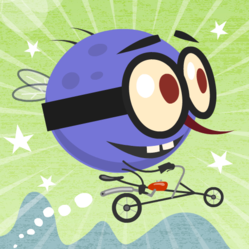 NEW YORK, NY (PRWEB) December 15, 2011
Stunt Bugs, a new game app from Smashing Ideas and Random House Digital, is now available in the iTunes® App Store™ for iPhone®, iPad® and iPod touch®. The result of an internal brainstorming contest among Smashing Ideas' staff and the first original app developed since Random House, Inc.'s acquisition of Smashing Ideas earlier this year, Stunt Bugs features Buzz the housefly and his team of Stunt Bugs in a race to Bugtropolis to become Stunt Bug Legends.
Throughout 48 levels of play—each more dangerous than the last—Buzz joins forces with other Stunt Bugs, from Flick the high jumping flea to Web the lasso-spinning spider, Dot the high-altitude hovering ladybug, Enzo the hyper-boosting, mustachioed gnat from bygone days, and Blaze the fire ant that actually shoots fireballs.
As players master levels, zooming along on motorcycles, avoiding Bee, Horsefly and Roach Enemy Bugs and collecting coins, they can hire new bugs with special abilities to help along the way, including Bubba Grub and his Sonic Boom, Zooey and her Helicopter Helmet, Glo and her Firefly Bombs and Magno-Worm and his Magnetic Draw.
Stunt Bugs is the latest product of Random House, Inc. and Smashing Ideas' successful partnership aimed at adapting existing publishing brands into meaningful digital experiences as well as developing original content specifically for the app channel.
The idea for Stunt Bugs arose from an internal contest for game proposals at Smashing Ideas, beating out fifteen other entries with its engaging storyline that echoes Joseph Campbell's "hero's journey" archetype—Buzz must travel from his home at Quick Oats Farm to the distant and exciting city of Bugtropolis on his quest to become a Stunt Bug Legend, facing obstacles along the way.
Stunt Bugs is an irresistible challenge for gamers of all ages—from four-year-old digital natives to grandmas with their first smartphones, everyone will love racing with Buzz and his friends! Find out more at http://www.stuntbugs.com, and share high scores at http://www.facebook.com/stuntbugs.
About Smashing Ideas
Smashing Ideas (http://www.smashingideas.com), founded in 1996, has become one of the leading digital media agencies by creating immersive, interactive content that that engages users and generates meaningful results. Cartoon Network, Disney, GE, Mattel, Microsoft, Nickelodeon, Sony, Verizon Wireless and more have called upon the company to develop engaging, online and mobile experiences for their audiences. Smashing Ideas is based in Seattle, with offices in the U.K.
About Random House, Inc.
Random House, Inc. is the world's trade-book market leader, a commercial and literary powerhouse publishing 10,000 new hardcovers, paperbacks, audio, and electronic books annually in the local languages of 16 countries, and selling 400 million books a year. More than 25,000 English- German- and Spanish-language titles are available as Random House, Inc. e-books. Random House, Inc. is home to many of the world's most popular and culturally admired adult and children's authors, including Nobel laureates and international leaders. It is a company of people who love books and who are passionate supporters of their authors, booksellers, and readers. (http://www.randomhouse.com)
###