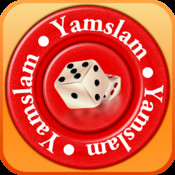 Beaverton, Oregon (PRWEB) December 16, 2011
Blue Orange Games and HagerApps are pleased to introduce Yamslam 1.0 for iOS 5, their new version of the popular board game played with five dice and 28 chips. The goal of the game is to throw a high scoring combination and claim a corresponding scoring chip. Players get three successive rolls of the dice, and may keep good numbers and roll the remaining dice on their following turns. Both luck and planning are required to win, as there are only four of each of the seven types of scoring chips. Rolling a high-scoring combination helps to win only if a matching chip remains for the player to collect. The game ends when the last chip is won or discarded.
Feature Highlights:

Fast, fun game for 1 to 4 players, ages 8 and older
Win chips for creating winning combinations with 5 dice
Try it by playing with friends using Apple's Game Center
Bonus Points at the end of the game for special chip combinations
An international favorite finally comes to iOS mobile devices
Players must employ risk taking and strategy to win Yamslam. The game is the flagship title in the Tin Game series, and it can be played in less than 20 minutes when playing face-to-face. Hager Apps has taken care to maintain the high quality and exquisite design for which Blue Orange Games, the creators of Yamslam, is known, when porting Yamslam to the iPhone, iPod touch, and iPad platforms. The iOS version of the game can be found in the U.S. and Canadian App Stores. It can be downloaded and tried free using Game Center's new turn-by-turn feature available only in iOS 5.
Yamslam Combinations:

2 Pairs / 5 point chip - two pairs of dice showing the same face
3-of-a-Kind / 10 point chip - three dice showing the same face
Small Straight / 20 point chip - four dice following each other in numerical succession (e.g., 2,3,4,5)
Flush / 25 point chip - all the dice have the same color
Full House / 30 point chip - three-of-a-kind and a pair
4-of-a-Kind / 40 point chip - four dice showing the same face
Large Straight / 50 point chip - five dice following each other (e.g., 1,2,3,4,5)
Yamslam / all five dice showing the same face - choose the chip you want and play again
For over 10 years, Blue Orange Games has been creating high quality games, exquisitely designed for maximum fun. Constructing their games with durable materials, Blue Orange is committed to producing eco-friendly games that are made to last and treasure. With a catalog boasting over 30 unique games for all ages, Blue Orange consistently earns recognition from retailers, enthusiasts and the game industry. Looking towards the future with an eye for constant improvement, Blue Orange Games is steadfast in their mission to bring HOT Games to a COOL Planet. Their line of games can be found at Whole Foods, Barnes & Noble and specialty stores. For videos, online games, reviews and store locator please see the link for Blue Orange Games, below.
"Blue Orange Games, creators of the fantastic games Sumoku, Yamslam, and Gobblet, have joined with HagerApps for the debut of these classic games on mobile devices and computers," stated Jonathan Hager. "Wanting their games to be played and enjoyed anywhere by anyone, Blue Orange has adapted their popular family games to the versatile App format."
Device Requirements:

iPhone, iPad, or iPod touch
Requires iOS 5.0 or later
Universal app optimized for display on all iOS devices
14.5 MB
Pricing and Availability:
Yamslam 1.0 is now available in the US and Canada exclusively through the App Store in the Games category. It can be downloaded for free and played with friends using Apple's Game Center. The ads can be removed from all the player's devices for $3.99 (USD). The additional features of solitaire play and face-to-face play by passing the device can also be added for $3.99. A bundle is available for a $5.99.
Yamslam 1.0
http://www.hagerapps.com/2011/11/yamslam/
Blue Orange Games
http://blueorangegames.com
Download
http://itunes.apple.com/us/app/yamslam/id446659371?mt=8
YouTube Video
http://www.youtube.com/embed/dKs3qRICnlQ
Screenshot 1
http://a3.mzstatic.com/us/r1000/119/Purple/f2/60/8b/mzl.gmvugice.320x480-75.jpg
App Icon
http://a1.mzstatic.com/us/r1000/070/Purple/eb/97/5b/mzm.saxvklnf.175x175-75.jpg
Based in Beaverton, Oregon, HagerApps was founded by Jonathan Hager in 2008. The iPhone is the perfect mobile platform for quick games. Jonathan leveraged his expertise as a software engineer and began creating Apps. The team that contributes to each application is a worldwide team of developers, designers, project managers and marketers. Copyright (C) 2011 HagerApps. All Rights Reserved. Apple, the Apple logo, iPhone and iPod are registered trademarks of Apple Inc. in the U.S. and/or other countries. Blue Orange Games and Yamslam are trademarks of Blue Orange Games. Other trademarks and registered trademarks may be the property of their respective owners.
###