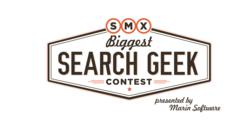 San Francisco, CA (PRWEB) December 16, 2011
Marin Software, provider of the leading online advertising management platform for advertisers and agencies, and Third Door Media, producers of the Search Marketing Expo - SMX conference series, today launched the 4th Annual "SMX Biggest Search Geek Contest," the popular quiz-based contest that lets search marketers enter for a chance to win a trip to SMX West 2012 and an Apple iPad2.
Key Facts:

The SMX Biggest Search Geek contest sponsored by Marin Software is open to anyone willing to test their SEM chops with 20 tough questions about search marketing on topics ranging from ad bidding, quality score, history of search, SEO, Facebook, mobile, and retargeting.
The contest runs from Dec 14, 2011—Feb 10, 2012 at 11:59pm PST. The first-place winner will win an all-expense paid trip for two to San Jose, California for the 2012 SMX West conference to be held February 28 – March 1.
The winner will be presented with an award on stage by SMX Conference Co-Chair Danny Sullivan and Marin Software VP of Marketing Matt Lawson. This year, the winner will also receive an Apple iPad2. Second- and third-place winners will also win Apple iPad2s. The top 50 entrants will receive a search geek recognition award.
Last year, more than 1000 search marketing professionals participated in the contest. The winner of the contest won with a score of 82% with the runner up at 74%.
Quotes:

"We're calling all paid search marketing experts to take the Search Geek challenge; this is your chance to showcase your SEM expertise and be recognized for it," said Matt Lawson, VP of Marketing at Marin Software. "This year's questions are tougher than ever, but as the $35B paid search industry has evolved, more and more people have learned the tricks to manage complex campaigns across millions of keywords, so we're confident there are super-smart search geeks out there."
"As the Winner of the 2011 Biggest Search Geek contest, I'm going to defend my title," said Seungbok David Chung at Webmetro. "I've been brushing up on my algorithms, keyword optimization, and campaign management tricks, so I'm confident I'll be back as the Biggest Search Geek this year."
"We're looking forward to seeing who the next Biggest Search Geek will be," said Danny Sullivan, Editor-in-Chief of Search Engine Land and Co-Chair of SMX West. "The Biggest Search Geek Contest sponsored by Marin Software has become a tradition at SMX West -- we can't wait to crown the next winner."
Resources:

About SMX and Third Door Media:
The Search Marketing Expo - SMX conference series is produced by Third Door Media, Inc. Third Door Media's mission is to empower internet and search marketing professionals by providing trusted content and community services they need to be successful. Search Marketing Expo conferences are held around the world and include: SMX West (San Jose, CA), SMX East (New York City), SMX Advanced (Seattle, WA and London, England), SMX Munich, SMX Toronto, SMX Sydney, SMX Melbourne, SMX Paris, SMX Stockholm, SMX Israel and SMX Social Media Marketing (Scottsdale, AZ).
About Marin Software:
Marin Software is a leading provider of online advertising management solutions, offering an integrated platform for managing search, display, and social marketing. The company provides solutions for advertisers and agencies of all sizes, enabling them to improve financial performance, save time, and make better decisions. Marin Enterprise, the company's flagship product, addresses the needs of online marketers spending at least $100,000 per month on biddable media. Marin Professional delivers the same power and ease of use as Marin Enterprise, through an application designed for marketers spending less than $100,000 per month. Headquartered in San Francisco, with offices worldwide, Marin's technology powers marketing campaigns for over 1,100 customers managing more than $2.7 billion of annualized ad spend in more than 160 countries. For more information, please visit: http://www.marinsoftware.com.
###