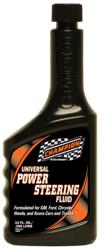 Champion Announces New Universal Power Steering Fluid with Impressive Versatility
Clinton, MO (PRWEB) December 16, 2011
Champion Universal Power Steering Fluid exceeds industry requirements and is recommended as a "Top Tier" power steering fluid for major auto brands GM, Chrysler, and Ford. For use in both cars and trucks, this power steering fluid stands out from the crowd in today's competitive market.
Formulated with advanced chemistry and hydrogen-refined base oils, Champion Brands Universal Power Steering Fluid offers excellent protection of power steering systems. Champion's product keeps seals pliable without causing seals to leak or disintegrate as some synthetic products do.
Champion Brands Universal Power Steering Fluid has premium anti-foaming agents to minimize oil oxidation, maintain film strength, and prevent cavitations that can destroy power steering vane pumps. It contains high performance anti-oxidants and dispersants to keep your system clean and free of harmful oxidation products. It also contains friction modifiers to provide a characteristically smooth ride.
Champion Brands is excited about this "Purpose-Built" fluid, and is positive that customers will be excited after using it in their vehicles. Recommended for usage in products made by major domestic and foreign automobile manufacturers, the Universal Power Steering Fluid will extend the life of your power fluid system.
About the company: Champion Brands, LLC, is a globally recognized industry leader in specialty lubricants for over 55 years. Champion also produces and blends over 300 products including fuel, oil, engine additives, and lubricants for the racing, automotive, heavy truck, agricultural, industrial, and specialty markets. For more information about Champion Universal Power Steering Fluid, contact your nearest Champion Distributor, or call Champion at 800-821-5693. Champion Brands, LLC; 1001 Golden Drive, Clinton, MO, 64735 or go to ChampionsUseChampion.com
###