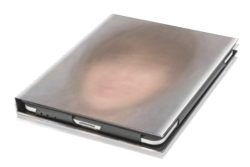 The iPad covers feature celebrity "meta portraits" by San Francisco artist Ray Beldner and iconic photographs of New York City by Richard Berenholtz.
San Francisco (PRWEB) December 15, 2011
Solid Line Products, LLC adds 27 new items to its ArtCase™ line of iPad and iPad 2 covers. The iPad covers feature celebrity "meta portraits" by San Francisco artist Ray Beldner and iconic photographs of New York City by Richard Berenholtz. The company also announced that, starting today and through Dec. 20, it would offer free two day shipping to guarantee holiday delivery of the art cases, custom photo cases, and other iPad and iPhone accessories on its website.
RAY BELDNER'S "META PORTRAITS" OF JUSTIN, BARACK, AND OTHER CELEBRITIES
Fans can get an iPad cover with an abstract portrait of their favorite of a dozen celebrities that include Justin, Barack, Oprah, Britney, Kanye, and others. Created by Ray Beldner, the "meta portraits" as he calls them, were created by collecting and layering the first 101 images returned by a Google search on each of the subject on a particular day. The originals of these time-based portraits are on exhibit at the Catharine Clark Gallery in San Francisco until December 23.
The abstract portraits are of celebrities, sports figures, political, and spiritual leaders. Twelve were selected to be featured on iPad covers. "We are featuring the portraits of the celebrities that have an ardent fan base because they'll naturally be the first to appreciate them," said Henry Lo, founder & CEO of Solid Line Products. "Art lovers will appreciate the images for their originality."
A native San Franciscan, Ray Beldner creates art using a number of mediums – installations, sculpture, digital media, photography, and text-based works. His work can be found in private and public collections, including the Smithsonian Center for American Art and Portraiture, National Portrait Gallery, Fine Arts Museums of San Francisco, to name a few. He has also received critical attention in Artforum, The Los Angeles Times, The Wall Street Journal, Art Papers, Playboy, and Wired.
RICHARD BERENHOLTZ' NEW YORK PHOTOGRAPHS
Solid Line Products also added 15 new cases featuring Richard Berenholtz's iconic photographs of New York. Half of the images are from Berenholtz's most recent book, New York Deco, which highlights architectural details of New York City's most famous (& infamous) landmarks. The remainder feature panoramic views of the New York City skyline as well as the Statue of Liberty.
Berenholtz is internationally renowned for his breathtaking photographs of New York City. Many of these images have been published in six books: Inside New York, Panoramic New York, Manhattan Architecture, New York New York, New York Architecture, and the most recent, New York Deco.
THE IPAD COVER IS THE ARTIST'S NEW CANVAS
Similar to a hardback book cover, Solid Line Products' art cases are made with vinyl created from recycled materials. The artwork is printed onto the iPad covers using environmentally friendly inks. iPad cases featuring works by San Francisco muralist, Brian Barneclo, and New York photographer, Barbara Alper, are also available for sale.
All art cases can be ordered with the RightShift®, the company's Bluetooth® keyboard named for the accurately placed right shift key that is often missing in comparable products but which is necessary for true touch typing.
Headquartered in San Francisco, Solid Line Products markets iPad and iPhone accessories.
###